The reviews of the larger i9-11900K, i7-11700K and i5-11600K SKUs have now been published, but for some reason Intel apparently did not want to provide review samples of the i5-11400F. Therefore, the only option left was to wait patiently and buy a corresponding SKU from regular retailers. The current retail price is around 165 Euros. That looks good at first glance, but what about the performance and what can be get out of the almost smallest i5 with RAM tuning? Is it even worth it?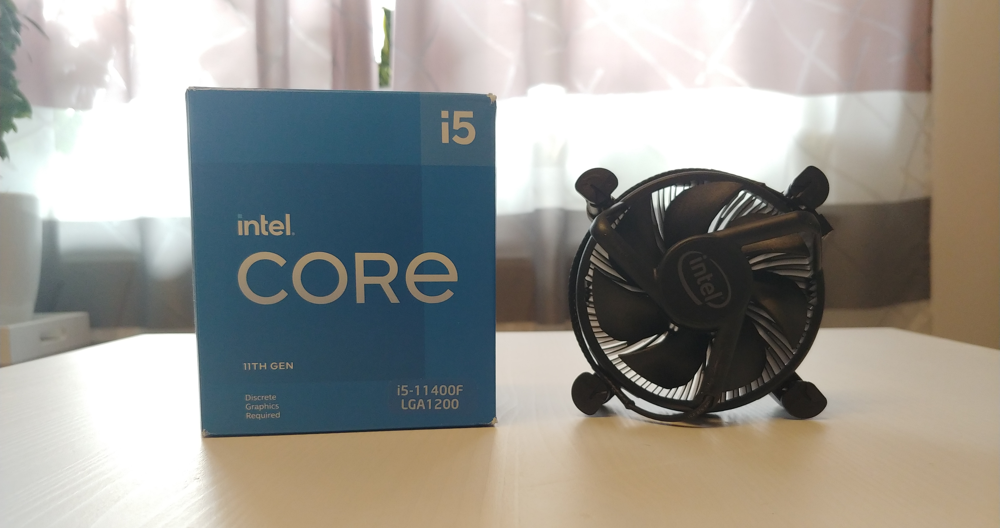 What does the i5-11400F offer?
The second smallest i5 besides the T-SKU has 6 cores and supports HT. The base clock is 2.6GHz and the maximum Turbo (with TVB) is 4.4GHz. Intel specifies the CPU with a TDP of 65W. The "F" in the name means that the i5 does not have an integrated graphics unit. Thus, it is essential to have a graphics card if you don't just want to look at a black monitor.
Rocket Lake is, as basically all reviews have confirmed, very energy-hungry. Therefore, the question naturally arises how far the i5-11400F can get with a power limit of 65W. The boost clock in games is 4.2GHz after all. Is 65 watts enough to run 6 cores + HT at 4.2GHz when a title like Shadow of the Tomb Raider has to be fired, which can easily utilize 12 threads?
The test system
It's obvious that you don't run a CPU for around 160 Euros with a 400 Euro Z590 board. In the run-up, we considered whether it wouldn't be better to test the i5-11400F on a B560 board. Since no B560 board was available to us at the time of the test, all benchmarks were made with the Z590 board. Is this at all comparable? Yes, it is. Although CPU OC cannot be done on a B560 board, by removing the limits you can force the CPU to always run at maximum boost. The RAM OC options are also comparable. RAM OC has nowhere near the high power requirements of a motherboard as Core OC. All performance values shown here can therefore be achieved just as well on a B560 board.
Graphics card: ASUS GeForce RTX 3090 TUF OC Gaming
Mainboard: ASUS Z590 ROG MAXIMUS XIII HERO with BIOS version 0703
Memory: G.Skill 2x16GB F4-4266C17D-32GVKB
Cooling: Watercool Heatkiller IV Intel Pro + MO-RA 420
Power supply: Corsair HX1200i 1200W
RAM OC - "The holy grail".
RAM OC has already been far superior to Core OC in terms of optimization potential for several CPU generations. With a 10900K, for example, and very good memory, performance increases of up to 25-30% are possible, see the Shadow of the Tomb Raider benchmarks from our test Battle of the Giants. Similar regions are utopian with Core OC if you use conventional cooling methods. A side effect is that the efficiency increases drastically because the occurring electric currents regarding the memory system are rather low.
The memory used is high-quality Samsung B-Die, which of course doesn't harmonize with the i5-11400F at all purely in terms of price. However, the used OC scenarios can be described as moderate for the most part, so that the performance increases achieved in the test are also roughly achievable with "normal" memory. The tighter scenario with DDR-3733 CL14 and partly optimized subtimings should rather represent a kind of upper limit, which should show what is quasi maximally possible. Theoretically, this setting can of course be optimized even further. After a certain amount of time, you have to accept the achieved state, otherwise the effort/benefit ratio gets drastically worse.
Tested RAM OC scenarios
DDR-3200 CL16, Subtimings auto, MCE on
DDR-3200 CL16, Subtimings auto, MCE off
DDR-3600 CL14, Subtimings auto, MCE on
DDR-3733 CL14, optimized subtimings, MCE on
MCE stands for Multicore Enhancement. If this option is enabled, the power limit is removed and the CPU keeps 4.2GHz on all cores in games. The scenarios are roughly staggered and therefore do not cover all combinations that are possible. However, other scenarios can be roughly estimated based on the data. An "error tolerance" of a few percent more or less should not be critical. The kit used is dual-ranked. If a 2x8GB single-ranked kit is used instead, this leads to a performance loss of about 5% on average.
The BIOS settings including the voltages look like this with the "DDR-3733 CL14, optimized subtimings, MCE on" profile.
Some timings turned out to be tricky, which will probably be fixed with future BIOS updates. Every change of "Write to Read Delay L+S" for example led to boot errors. So all this is not optimal yet. Non-Samsung B-Die modules are not able to be operated with such a low value for tRFC. Here, the value has to be set almost twice as high.
Stability, stability, stability
Stability is the most important thing about RAM OC. The problem is that memory errors can go unnoticed for a long time. It is therefore important that the settings are tested carefully. Various tools are available for this, and you should combine at least 2 of them. It is also important that the memory is tested under realistic temperature conditions, so it is best to also run a graphics benchmark during this (in a continuous loop) so that the environment is heated up.
Karhu (paid software, 10000% coverage).
We recommend a runtime of 1 hour for GSAT. The test can be started with
stressapptest -W -M 13312 -s 3600 --pausedelay 14400 --maxerrors 1
stressapptest -W -M 26624 -s 3600 --pause_delay 14400 --max_errors 1.
The first variant is for 16GB and the second for 32GB main memory.
Single results 720p
The games used represent a subset of the current CPU benchmark suite. The opponents are the i5-10600K, i9-10900K, i7-11700K (Gear 1 mode) and R9 5900X. A comparison with an R5 5600X would have undoubtedly been more interesting, but the CPU is unfortunately not available to us. In terms of gaming performance, however, the difference to the 5900X is not huge on average, so the performance of the smaller R5 with 6 cores can be estimated well.
Call of Duty: Black Ops Cold War
API: DirectX 12
Engine: IW Engine 5
Scene and settings: Video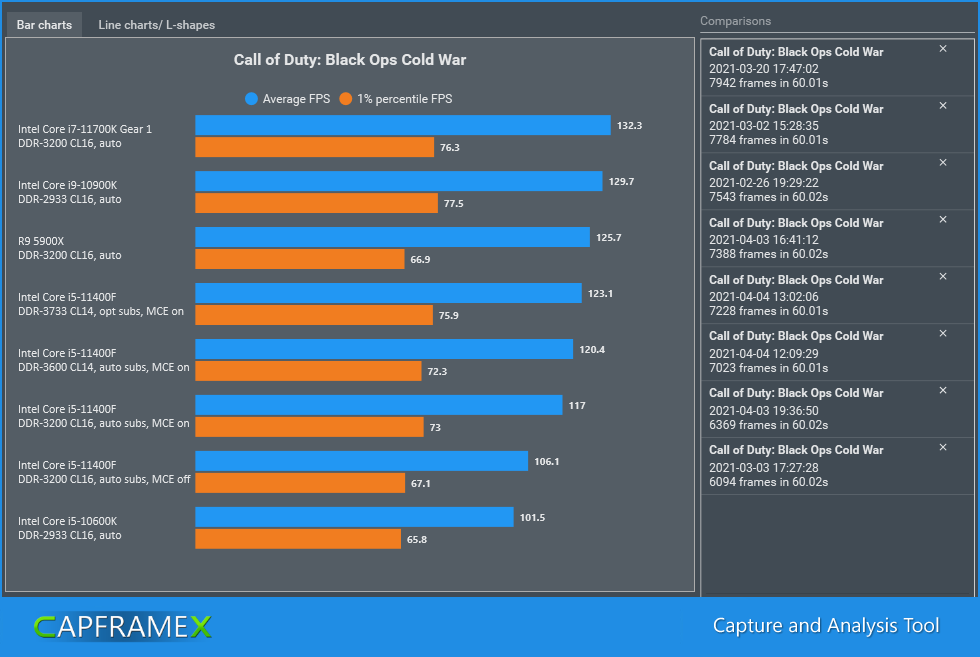 Crysis Remastered
API: DirectX 11
Engine: Cryengine 5.6
Scene and settings: Video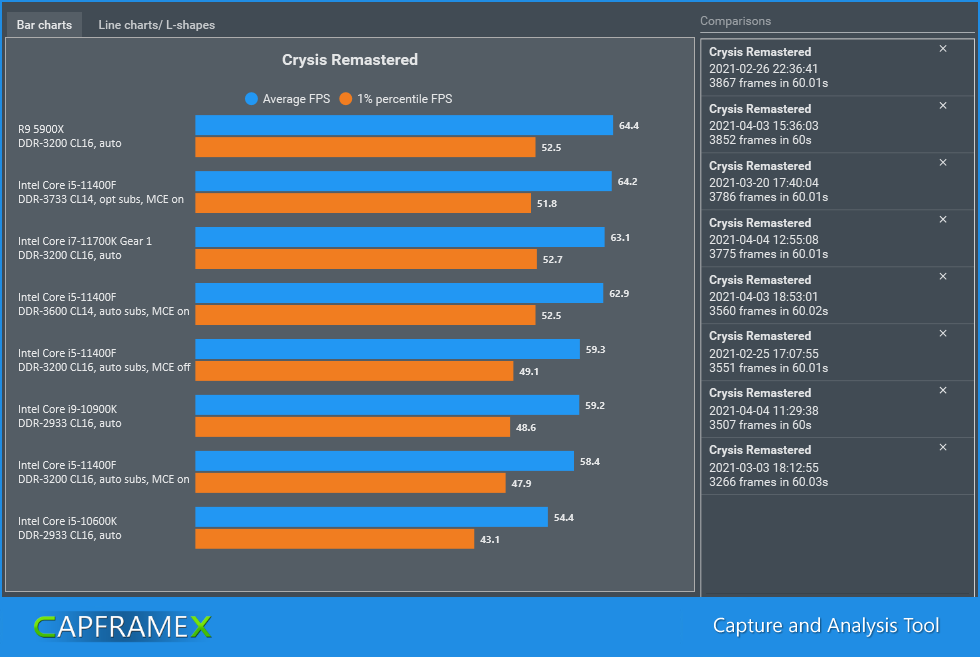 Cyberpunk 2077
API: DirectX 12
Engine: RED Engine 4
Scene and settings: Video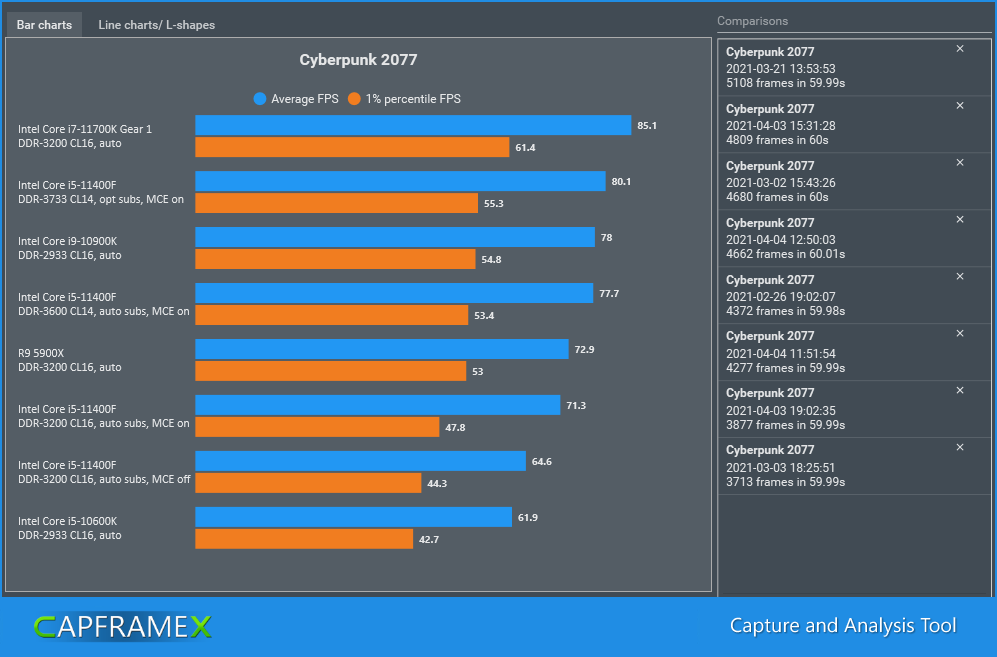 Hitman 3
API: DirectX 12
Engine: Glacier Engine
Scene and settings: Video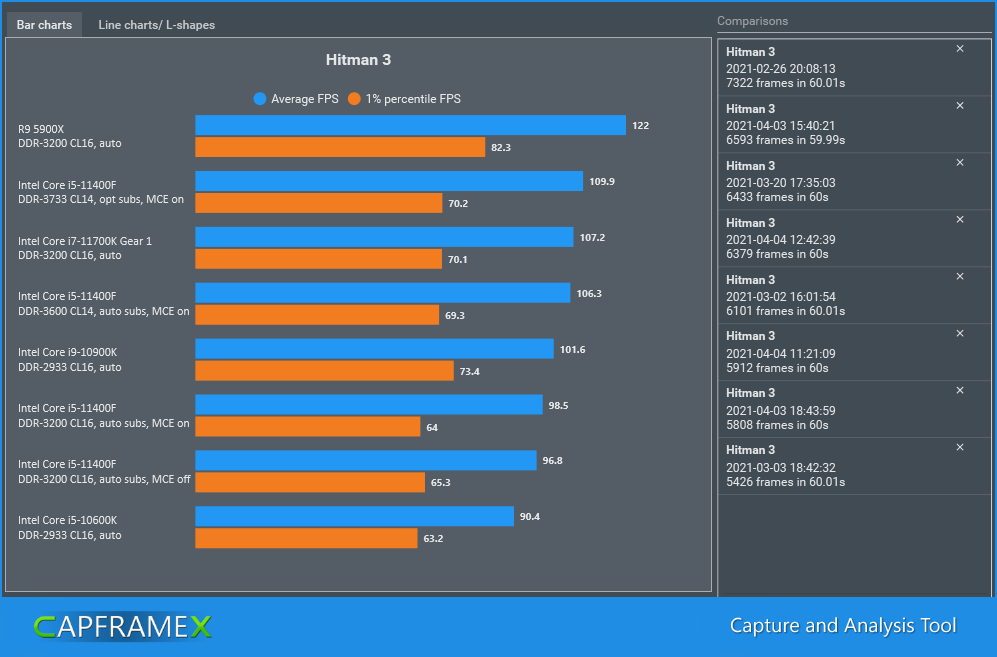 Horizon Zero Dawn
API: DirectX 12
Engine: Decima Engine
Scene and settings: Video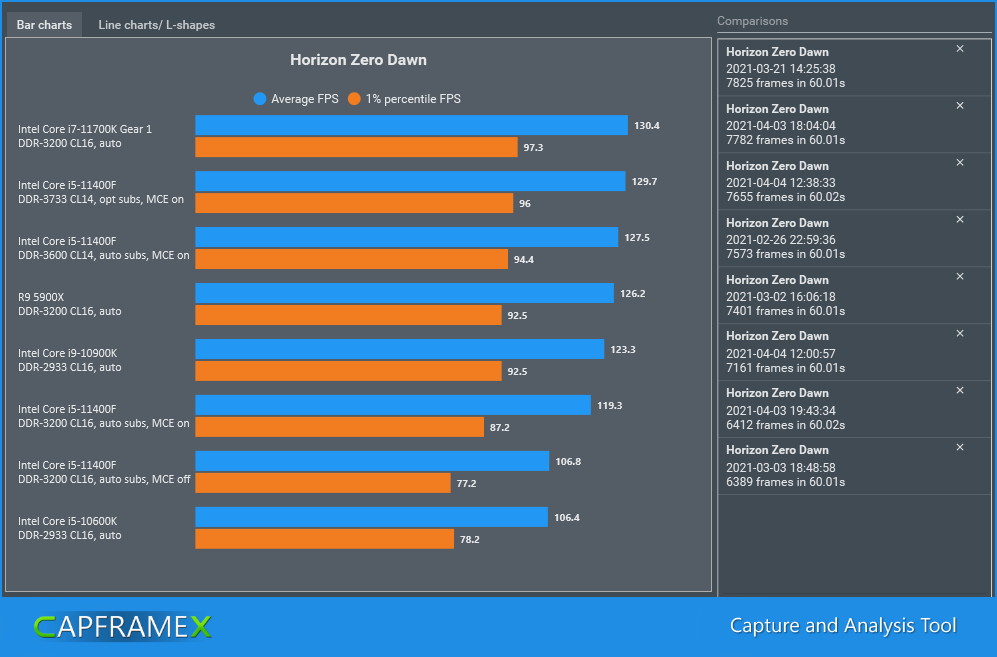 Shadow of the Tomb Raider
API: DirectX 12
Engine: Foundation Engine
Scene and settings: Video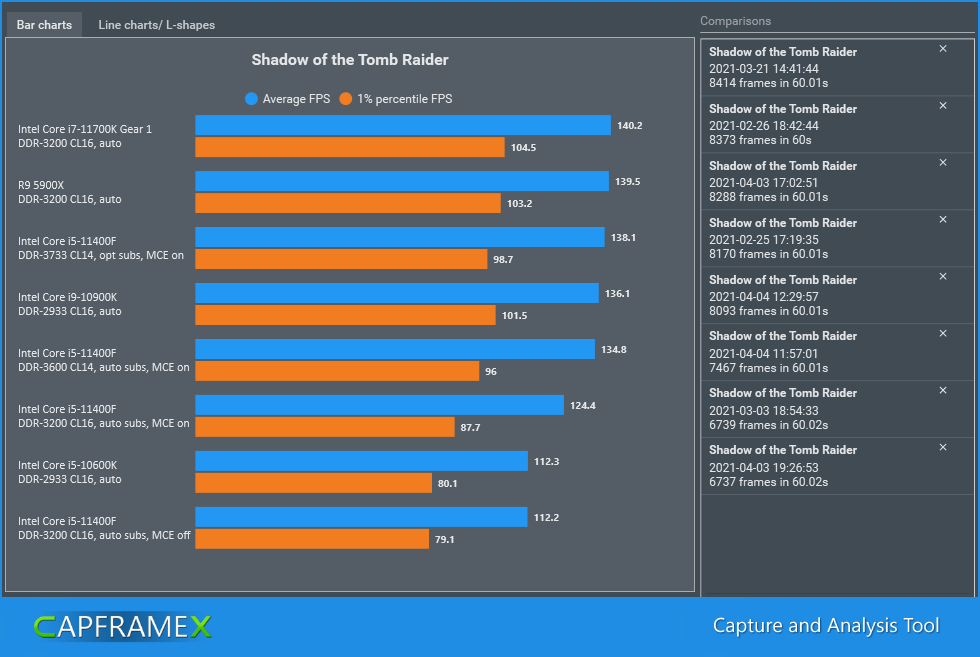 Star Wars: Jedi Fallen Order
API: DirectX 11
Engine: Unreal Engine 4
Scene and settings: Video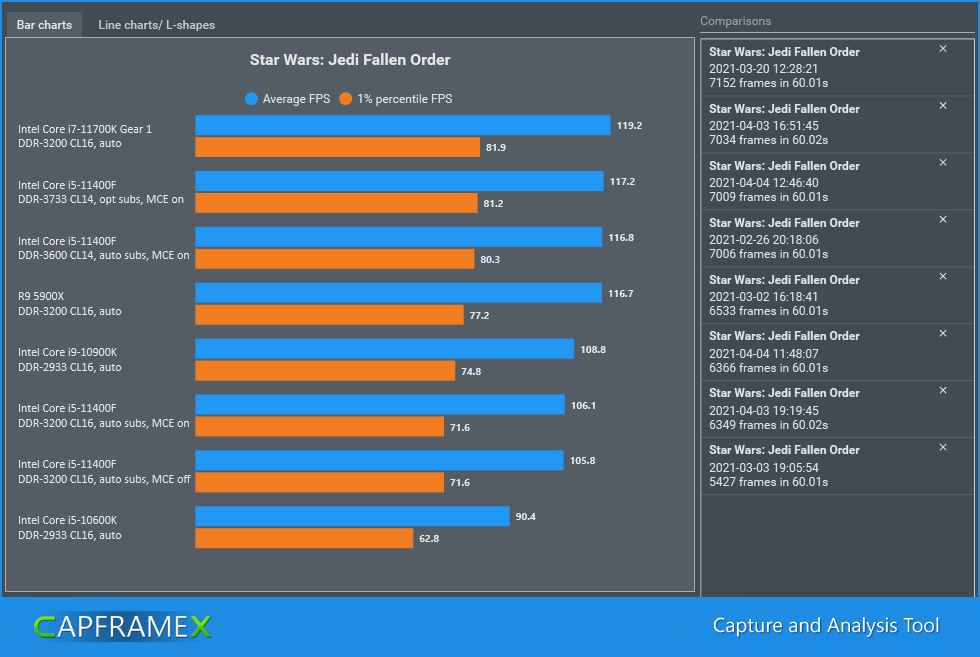 Power consumption
Shadow of the Tomb Raider turned out to be the worst case in terms of power consumption based on the mini-suite used for this test. Unsurprisingly, the CPU draws an average of 65W. The consumption increases to 100W with MCE enabled, which should already cause problems for the included boxed cooler. Thus, an additional cooler is important if you want to run the CPU reasonably. This also applies to the noise in particular.
A good possibility to reduce the power consumption is undervolting. In the following, two scenarios are listed with an offset of -0.025V and on the other hand much more effective with -0.125V. The smaller offset leads to 10% less consumption, while -0.025V has hardly any effect. Stability was tested with 30 minutes of Cinebench R23.
Conclusion
If you look at the results, the small i5 always competes very well just if MCE is enabled and the memory is run with 3200 C16. These are not utopian memory settings and should not put too much strain on the wallet. If you use tighter settings, which of course requires a better memory, even much stronger CPUs like the i9-10900K or R9 5900X can be overtaken. That is remarkable when you consider the CPU's price. B560 motherboards are affordable and the max RAM settings can almost be reached with 2x8GB G.Skill Flare X DDR4-3200 CL14, for example, which is available for just under 140 Euros. If you want to make even better bargains, you can have a look at B-Die Finder . However, 2x8GB Crucial Ballistix DDR4-3600 CL16 for about 93 Euros are just as recommendable. This should at least bring you to the level of the DDR-3200 CL14 setting. With the moderate settings, the CPU should offer enough performance to utilize an RX 6700XT or RTX 3060 Ti depending on the resolution. With the better memory, it should be enough for stronger GPUs like an RTX 3070 or even RX 6800 XT. As mentioned, this depends on the resolution and graphics settings.
No matter what you ultimately decide, the CPU already offers very good performance with normal memory as long as you lift the power limit. This should put AMD under pressure, since the i5 is basically unrivaled in this price range. An R5 3600 is based on the Zen 2 architecture, which sometimes has significant weaknesses in gaming and falls far behind Zen 3, Comet Lake and Rocket Lake depending on the title. The predecessor i5-10400F would be an alternative, but does not offer PCIe Gen 4 and places itself a few percentage points behind the i5-10600K, which can be used for comparison.
The i5-11400F is an all-around recommendable product for gamers whose goal is not only price/performance but also high frame rates.