You can download the latest stable release of CapFrameX here.
If you are looking for betas, older versions or want to see the changelogs, visit our GitHub release page.
If you are interested in development builds, please have a look at https://archive.capframex.com/
Important notes
To use the portable version you have to install the standard version on your system once to ensure all frameworks are installed.
If you are using a network drive as your capture directory and having problems connecting to it on autostart, you might want to download this additional zip file too and read the info inside it.
---
Featured Blogposts
metrics explained
5/31/20
Frametimes, FPS, median, Percentiles, x%-low ?
Continue reading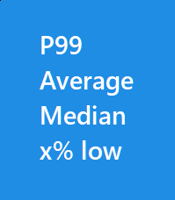 how capframex calculates fps
6/27/20
Why does my analysis show fps values that are lower than what I've seen in the game?
Continue reading