You can download the latest release of CapFrameX here.
If you are looking for older versions or want to see the changelog, visit our GitHub release page
Important notes
To use the portable version you have to install the standard version on your system once to ensure all frameworks are installed.
Calculation of x% low metrics has changed with version 1.5.3. In case reviews were created with the old x% low metrics, they are not comparable with the new ones. If the recorded data is still available, the analyses can be recreated.
The portable version has a larger file size because pdb-files are now included. The pdb-files help us to get more detailed log reports.
---
Featured Blogposts
metrics explained
5/31/20
Frametimes, FPS, median, Percentiles, x%-low ?
Continue reading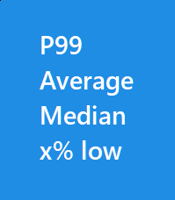 how capframex calculates fps
6/27/20
Why does my analysis show fps values that are lower than what I've seen in the game?
Continue reading