Finally, AMD presents its latest development called FidelityFX Super Resolution (FSR). After their competitor Nvidia presented DLSS version 1.0 in February 2019, AMD now follows about 2.5 years later with its own upscaling feature, but takes a different approach. FSR was presented on June 1, 2021 at Computex during the keynotes. The presentation included visuals in the form of a video to get a first impression of the technology. We now want to deepen this first impression a bit.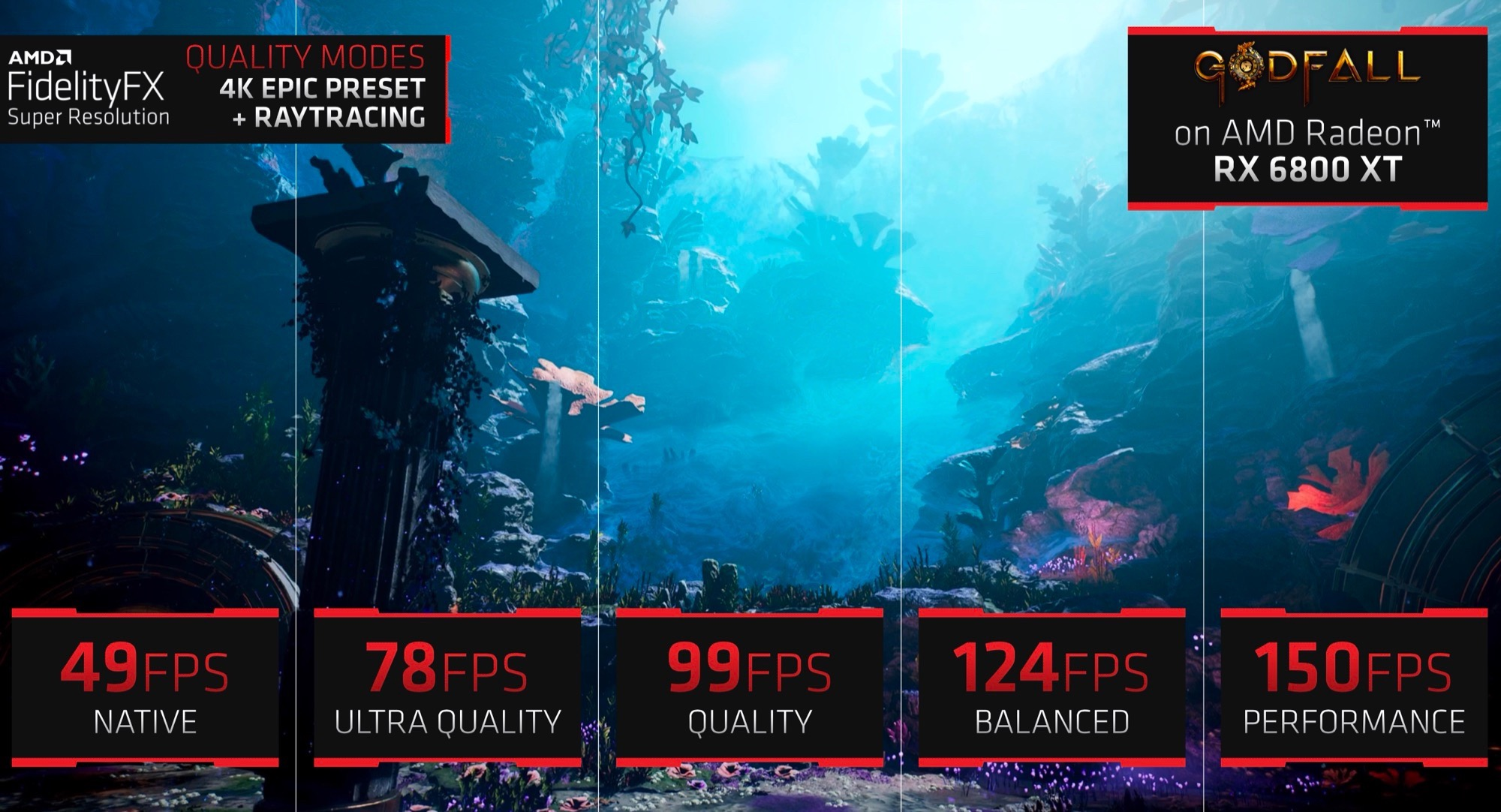 Source: AMD
FSR vs. DLSS
What is clear for some is not a given for others. Can FSR be seen as a direct competitor to Nvidia's DLSS at all? As always, you can look at things from different perspectives. Purely in terms of technology and the targeted market segment, the approaches are separated by big differences, but the actual purpose allows a direct comparison in the end. Without getting into complicated technical discussions, let's reduce the consideration to what PC gamers expect from the features: more performance with the best possible image quality. The task of an upscaler is to upscale from low-resolution image material to a desired target resolution. DLSS and FSR extend this purpose, namely through speed increases in the case of DLSS, also through supersampling and anti-aliasing (edge smoothing).
The devil is in the details, namely in the simplistic "extrapolation". Nvidia has invested a lot of work in the further development over the last few years. Version 1.0 of DLSS, which was used in Battlefield V and Metro Exodus for example, was not convincing. The image sharpness was sometimes poor. Version 2.0 has meanwhile largely left all weaknesses behind. Problems with ghosting and artifacts were recently improved with version 2.2. Thus, it can be said that Nvidia is very well positioned. The bar for AMD is high.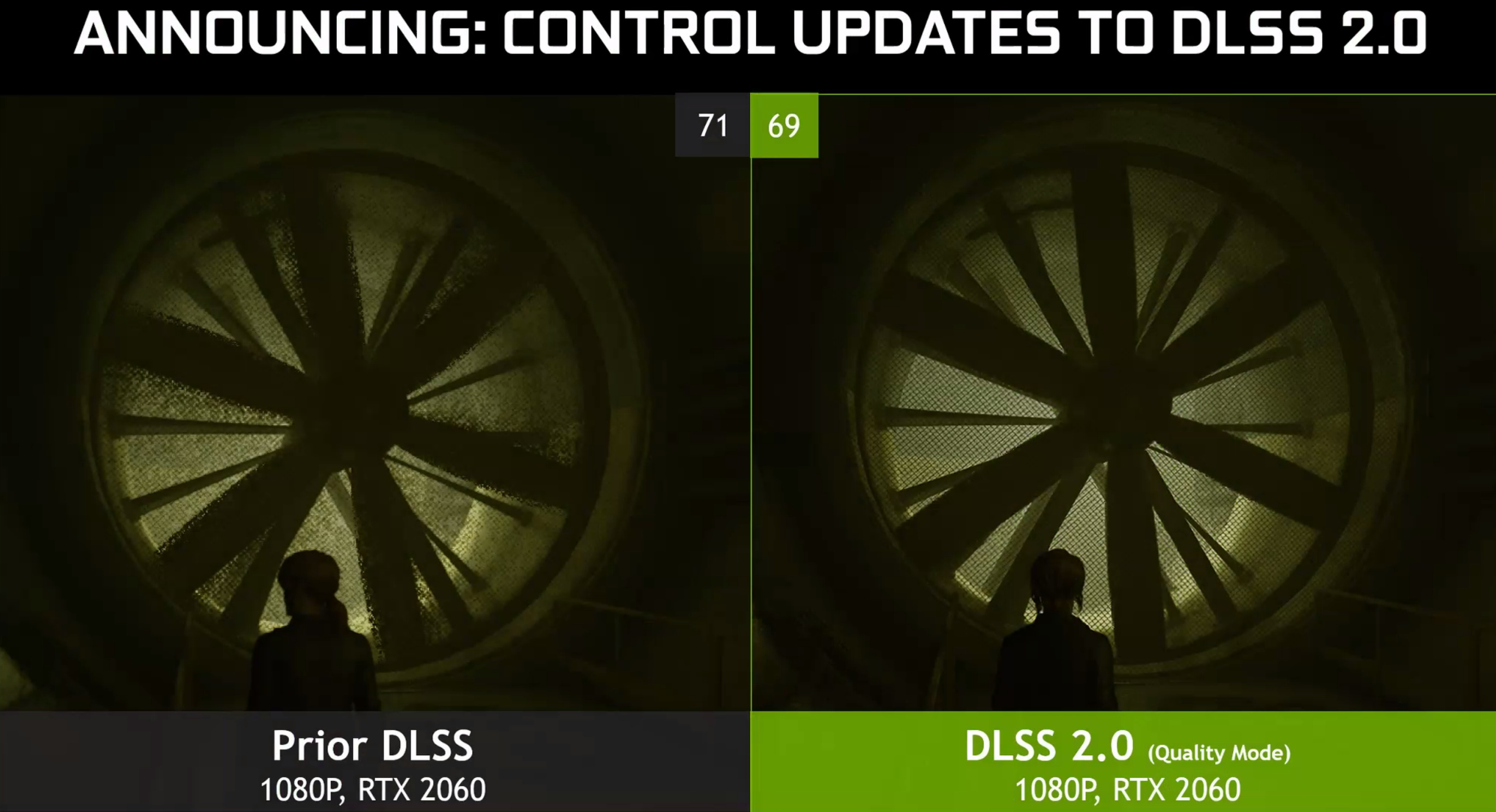 Source: Nvidia
Essentially, FSR 1.0 does not use vectorial information, which is used for the temporal considerations, also AI is left out (for the time being). On the hardware side, Turing and Ampere are able to strongly accelerate AI computations using the tensor cores. Neural network traversal is mainly based on matrix operations, which Nvidia's Tensor Cores can perform much faster than normal shaders. Within the DLSS upscaling process, AI calculations are used to improve statistical noise from temporal direction vectors.

Source: Nvidia
AMD does not offer AI technologies, but they open up the technology and go the way of broad availability. Besides the current RDNA architectures, Polaris is also to be supported, APUs are to benefit, consoles will not be missing, but AMD goes one step further, even competing products from Nvidia and Intel are supported, although these companies have to do the actual optimization themselves. What this means in detail isn't quite clear yet. Open Source and wide availability may ultimately turn out to be a smart move to compete against Nvidia's wonder weapon.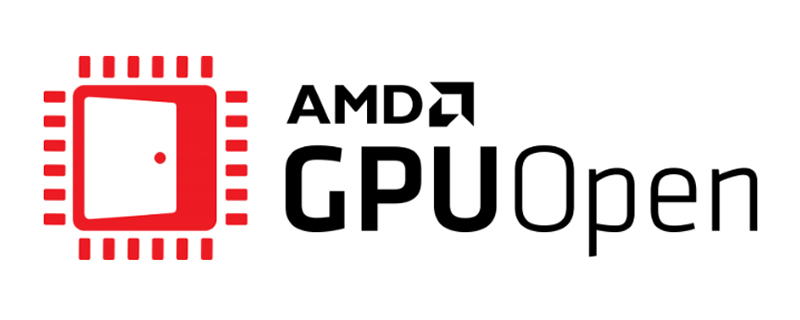 Source: AMD
DLSS - the current state
We take a look at the current state of Metro Exodus Enhanced Edition, which implements DLSS 2.1. However, the latest version 2.2 can be used with a trick. All you have to do is replace the lib nvngxdlss.dll in the game directory. The update of Rainbow Six Siege, which was equipped with DLSS 2.2, serves as the source. An RTX 3090 with the latest driver version 466.77 is used as the graphics accelerator.
Two different scenarios are examined, which highlight different aspects. Both scenes are located in the Volga level of the game. In the first scene, a sprawling landscape is depicted. The upscaling quality can be seen, for example, in the buildings/steel structures far in the background. The second scene takes place inside a building. In the background, lettering is displayed, the completeness of which depends on the quality of the upscaler.
**Under each comparison is a link to view the full-size images.
Game settings:
2560x1440 with shading rate 1.0x
V-Sync off
Ultra Preset
Raytracing Ultra
Reflections Raytracing
Motion Blur off
VRS off
Hairworks off
PhysX on
Tessellation on
Landscape scenario
DLSS Off
DLSS Quality
DLSS Balanced
DLSS Off
DLSS Performance
DLSS Off
DLSS Ultra Performance
DLSS Off
DLSS Off vs. DLSS Ultra Performance
Indoor scenario
DLSS Quality
DLSS Off
DLSS Balanced
DLSS Off
DLSS Performance
DLSS Off
DLSS Ultra Performance
DLSS Off
DLSS Off vs. DLSS Ultra Performance
Quality analysis
Basically, it should be noted that even the performance mode can now offer a convincing quality. The image comparisons speak for themselves. The personal impression cannot be replaced by third-party analyses. However, some things immediately jump to the eye. In the landscape scenario, it can be observed that building details are missing in the background. Interestingly, this is not static, so it is questionable to what extent the LoD plays into it. On the trees, some of the details are more present with DLSS, but some of the details are missing. The reason is unclear. In the indoor scenario, a clear blur can be observed, for example, on the right railing when using the Performance or Ultra Performance mode. The lettering looks paler and blurrier.
Overall, Nvidia's AI upscaling can convince. The results of the Performance modes in particular are impressive. Weaknesses like ghosting and artifacts have been addressed and greatly improved in version 2.2. We will take a look at the possible performance gains next.
DLSS performance analysis
The indoor scene was used to prevent a CPU limit as much as possible. The CPU limitation could not be avoided from Performance mode onwards, despite a fast Ryzen 9 5900X and memory tuning. Considering an internal resolution of 480p when using Ultra Performance, this is not surprising.
Hardware used for the performance test:
Graphics card: ASUS GeForce RTX 3090 TUF OC Gaming
CPU: AMD Ryzen 9 5900X
Mainboard: Gigabyte X570 AORUS MASTER with BIOS F33i
Memory: G.Skill 2x16GB DDR-3800 CL14
Cooling: Watercool Heatkiller + MO-RA 420
Power supply: Corsair HX1200i 1200W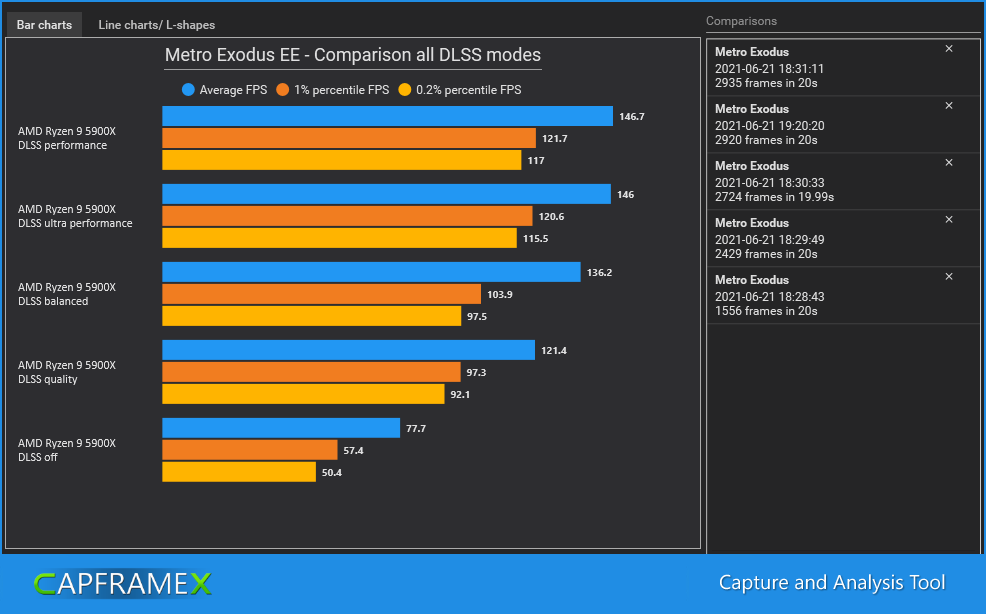 The average FPS improve by about 56% when the DLSS quality mode is enabled. With the Performance modes, even almost 90% increase is possible. Ultra Performance is not worth it due to the CPU limitation in WQHD. The fact that the Performance mode with is slightly faster compared to Ultra Performance is not necessarily due to the measurement accuracy, because this can be reproduced reliably.
FSR 1.0 - the launch state
AMD has provided the corresponding Adrenalin driver 21.6.1 just in time for the launch date. We will take a look at how FSR performs in terms of quality and performance with Terminator Resistance. The title relies on DirectX 11 and the Unreal Engine 4. A PowerColor Red Devil Radeon RX 6800 XT takes care of the graphics output.
Under each comparison is a link to view the full-size images.
Game settings:
2560x1440 with resolution scaling 100%.
Windowed mode (image quality) and full screen (performance)
V-Sync off
Fidelity FX Sharpening off
All settings to maximum
Film Grain, Chromatic Abberation, Motion Blur off
Landscape scenario
FSR Off
FSR Ultra Quality
FSR Off
FSR Quality
FSR Off
FSR Balanced
FSR Off
FSR Performance
Indoor scenario
FSR Ultra Quality
FSR Off
FSR Quality
FSR Off
FSR Balanced
FSR Off
FSR Performance
FSR Off
Quality analysis
The fears regarding the image quality, which some had due to the video material at AMD's presentation a few weeks ago, fortunately did not prove to be true. Is FSR now better than expected? Realistically not, but at least better than feared. Basically, only the Ultra Quality mode can really convince, whereby slight weaknesses already show up in terms of sharpness (zoom/fullscreen comparison) and the reconstruction of finer structures, such as cables. These weaknesses increase the more you go towards Performance mode. In addition, shadows become less soft. The sharpness filter, which is undoubtedly used within FSR, improves the contrasts and makes the textures look sharper. This behavior should therefore not be attributed to the upscaling algorithm itself. An important aspect that static images cannot reflect is the quality in motion. From the Quality mode onwards, the image becomes noticeably more unstable, flickering can be seen. Just as a side note, since this was wrongly mentioned by some reviewers, FSR cannot reconstruct details due to its principle. Therefore, FSR cannot be better than native.
FSR performance analysis
The landscape scene was used for the performance analysis. Even with the performance mode selected, there was a solid GPU limit. The i9-11900K with ABT and RAM tuning was always able to supply the Big Navi card with enough data.
Hardware used for the performance test:
Graphics card: PowerColor Red Devil RX 6800 XT
CPU: Intel i9-11900K
Mainboard: MSI MAG Z490 Tomahawk
Memory: G.Skill 4x8GB DDR-3600 CL16
Cooling: Noctua DH-15
Power supply: be quiet! Dark Power Pro 650 Watt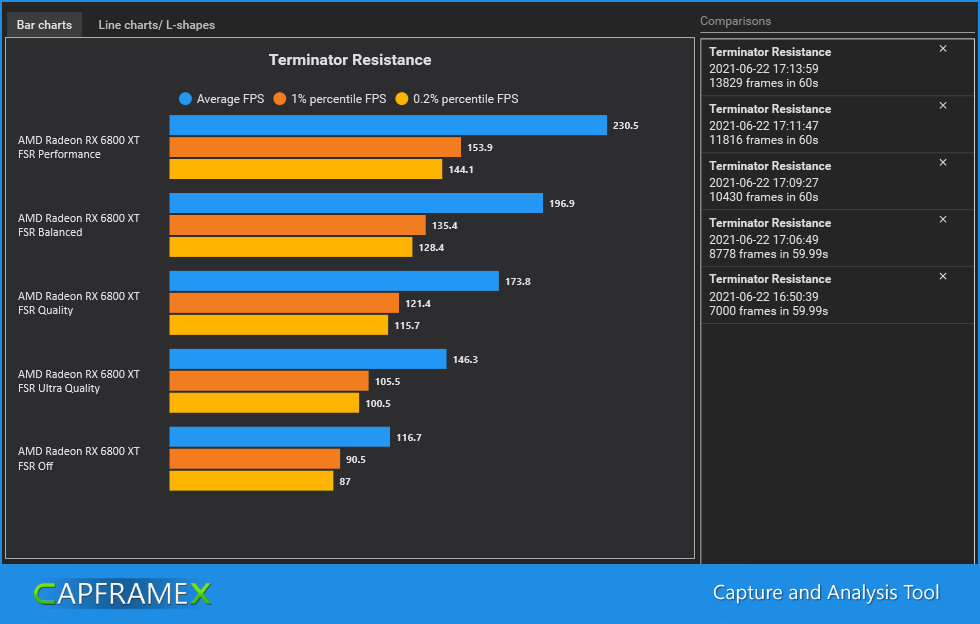 Performance behaves as expected relative to internal render resolution. With the Ultra Quality mode 25% more FPS are possible. The Quality mode even offers almost 50% more performance compared to the native resolution. Although it is not advisable from the quality point of view, but if it is desired, the Performance mode can even double the performance.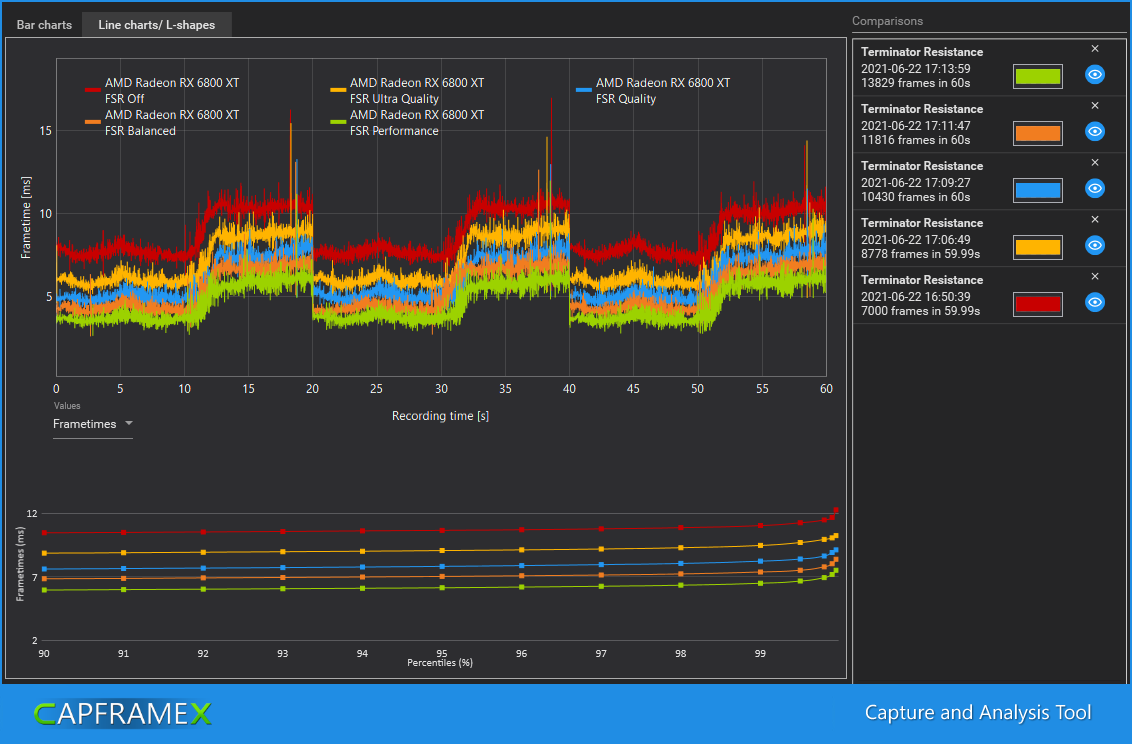 The frame times do not show any abnormalities. FSR has no negative impact on smoothness.


Conclusion
Considering that FSR is a spatial upscaler that does not include any temporal or AI approaches the results are good. But how innovative is the technology? AMD is a successful high-tech company that develops very competitive hardware products. To complete strong hardware, it needs equally strong software. Thus, the balance turns out to be rather restrained in comparison with the competitor Nvidia. Nvidia has set the bar high with DLSS in the current expansion stage (version 2.2). What use is it for a PC gamer with an RX 580, for example, if the frame rates cannot be increased sufficiently under FHD with acceptable image quality, that FSR is open source or can be easily integrated by developers? Performance gains anywhere from 60 to 80% are possible with DLSS and it still looks good. Performance gains need to be significant depending on the scenario to ensure a smooth range or to compensate for the impact of ray tracing. The potential increases of up to 40% with the ultra quality mode in 4K unfortunately cannot be transferred to FHD or QHD and thus severely limit the previously praised broad market segment that FSR is supposed to target compared to DLSS.
Spatial upscaling is considered to be exhausted in expert circles, which means that AMD will have to make a paradigm shift with FSR 2.0 to be able to push FSR forward. This would mean that the advantage of easy integration would be lost, and it is far from clear whether AMD will really completely open source an elaborate AI approach. It could also well be that FSR then becomes partially closed source. In any case, the pressure on Nvidia grows with the launch of FSR. It remains to be seen how Nvidia will react to this pressure. A DLSS offshoot that runs on normal shaders would be desirable. It is questionable whether the matrix operations for the AI calculations can be sufficiently optimized for execution on the Cuda cores.
FSR is a start. It is better to have it than not to have it. AMD could not offer the great innovation, so it remains to be seen what they will make of it in the future and how Nvidia will react to it.