Co-author: blautemple
Content of the article: Gaming benchmarks Rocket Lake without GPU limitation, demanding and real in-game scenes, IPC comparison different archs, efficiency, power consumption, Gear 1 vs. 2 mode comparisons, benchmarks with ABT enabled, BIOS issues explanation
Intel's 11th generation is ready for take-off. This time some things are fundamentally different and some are not. For the first time since Skylake, which was released in August 2015, Intel has launched a completely new architecture: code name Rocket Lake-S based on Cypress Cove cores with up to 19% more IPC. With regard to the process, everything remains the same. Rocket Lake-S is manufactured on 14nm which has both advantages and disadvantages in terms of efficiency. Besides the performance increase the 11th generation has been provided with several new features and instruction sets: PCIe Gen 4, Deep Learning Boost, AVX512 and a new iGPU based on the Xe architecture.
Rocket Lake-S is expected to demonstrates its strength in fields like single-thread performance, gaming and content creation. A significantly increased IPC and high clock rates are supposed to make this possible. The latter is given by the 14nm process, which will probably be replaced by the more modern 10nm process at the end of the year together with Alder Lake-S.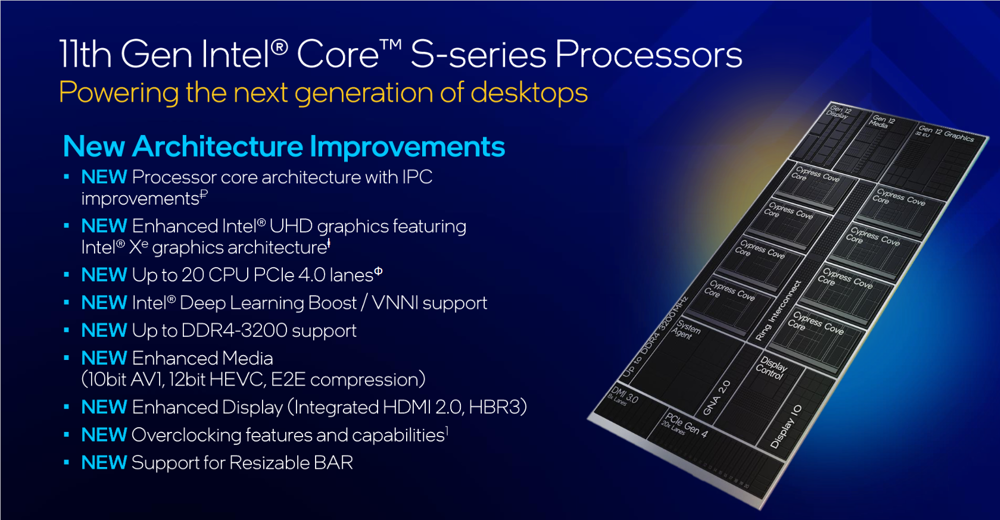 Source: Intel
A launch ready for the circus
Most people have probably never experienced such a launch. In the run-up there were leaks, which showed a strange situation. Rocket Lake was sometimes even slower than its predecessor Comet Lake, especially related to gaming performance. Virtually sensational was the push of the German online retailer Mindfactory, which sold the i7-11700K weeks before the official launch. The reasons for this are ultimately unclear, but Intel is very likely not free from blame for this situation. Mindfactory themself said that they were authorized to sell the CPUs when asked by a user.
As a completely logical consequence of the early availability previews were made by well-known reviewers, in which Rocket Lake partly didn't perform well at all. The performance regression compared to the predecessor could even be confirmed. The consequence was a massive image loss, which could be clearly observed in the tech forums. Later retests with various BIOS updates could only partially improve the results. However, this was made difficult by the methodology in some cases. CPU benchmarks within relatively strong GPU limitation are logically rather not suitable for this.
Contradictory results
Ultimately, we also purchased an i7-11700K from Mindfactory and did short tests, which we had published on Twitter. The BIOS used for these tests was version 0603, which ended up being used for the entire review along with an ASUS Z590 ROG MAXIMUS XIII HERO motherboard. To test Intel's new Adaptive Boost Technology, which is only offered for the i9-11900K/F for now, version 0703 was installed on the ASUS board. Random comparison tests did not reveal any performance differences (without ABT) between 0603 and 0703 that were beyond the error margin.
Of course, we also had problems with the platform, because the fact that the other reviewers also had issues was no surprise. The reasons are not 100% clear until today. The following measures helped the RKL CPUs to perform well.
Using a compatible memory kit. We could observe problems when training the parameters with various memory kits, which were logically not used for the tests. The performance differences were partly considerable.
Not using an XMP profile. This measure normalized the voltage management so that the CPUs were not prematurely slowed down by PL1 due to too high voltages. Of course, the official specifications from Intel for PL1 and PL2 were used for this review.
Updating to Management Engine 15.0.22 (BIOS version 0603)
As a further measure, the system timers were checked, which can theoretically cause unusual performance differences. The timers behaved normally.
Who is this review for?
Know your audience, it is said not entirely unwisely, but also know your reviewer. Interested users who have followed our work in the past know that we do CPU testing a certain way, namely without the impact of the graphics card.
There is no one and only correct testing methodology, so it is to be welcomed that the range of different methods is diverse. This way everyone gets the information they are interested in. However, the way you test has an effect on what conclusions you can draw from it. To be able to determine the actual CPU performance, we use low-res approaches. This approach is often criticized as being unrealistic, so at this point the advantages are summarized in the most compact way possible.
Low-res approaches allow correct relative comparisons. It is often said that the relative ratios are identical to 1080p tests with high or very high settings. This is not correct. In our article "Battle of the Giants" we showed that Zen 3's lead drops from almost 12% to 6% when 1080p is used.
Low-res tests show the impact of architectural improvements on gaming performance which is obfuscated by any form of GPU limitation.
Low-res tests provide results that are independent of the graphics card. If a graphics card comes on the market tomorrow that is twice as fast, the results remain valid.
Tests where, for example, an R3 3300X is combined with an RTX 3090 together with medium settings at 1080p are no less unrealistic. The same applies to 4K tests with an RX 5600 XT for example.
So, this review is for everyone who wants to know the raw CPU performance in terms of gaming. Application benchmarks and architecture analyses can be done better by others. Gaming is our field. In our own way, we contribute to the diversity of information for the community. We also strive to keep the review as compact as possible so that the readers can get a good overview and find the desired info quickly.
Fresh silicon
For this review we had an i9-11900K and an i7-11700K available as representatives of the 11th generation. The i9 was kindly provided to us by Intel, while the i7 was purchased from Mindfactory as mentioned at the beginning.
Other components (Rocket Lake system):
Graphics card: ASUS GeForce RTX 3090 TUF OC Gaming
Mainboard: ASUS Z590 ROG MAXIMUS XIII HERO with BIOS version 0603
Memory: G.Skill 2x16GB DDR-3200 CL16
Cooling: Watercool Heatkiller IV Intel Pro + MO-RA 420
Power supply: Corsair HX1200i 1200W
The test candidates
The hardware used for this review is shown in the table "Test systems" at a glance and we would also like to say a few explanatory words about the memory configurations. The principle that there is no one and only correct methodology applies as well in this case. There are just as many arguments for testing all CPUs with the same memory settings as there are against it. The JEDEC approach also has advantages and disadvantages. It offers a general and therefore comparable standard, yes, but the settings DDR-2933 C20 and DDR-3200 C22 for example from the JEDEC table for DDR4 modules, which have a very similar CAS latency, only differ slightly in performance, so that a higher memory specification is ultimately not "rewarded". This is the reason why the timings are identical in our tests but the Data Rate (MT/s) is set according to the specification. We have discussed this with the community in advance and we are aware that this decision will be met with criticism.
However, a chapter about the gaming "IPC" will follow, whereby all systems will be compared with identical memory settings.
A closer look at the table reveals not only the memory settings, but also the fact that the same graphics card was not always used consistently and the cooler used also differs. This was purely for organizational reasons and has no impact on the results as the i9-10920X is far from being able to utilize an RTX 2080 Ti without OC. The Dark Rock Pro 4 is a very good air cooler that can cool the Cascade Lake-X CPU with a TDP of 165W and even offers reserves for overclocking. It is ultimately important that the fast CPUs are combined with the RTX 3090 which has actually been used consistently.
To rule out any performance differences between the 2x16GB and 4x8GB kit, random tests were performed. The deviations were within the error margin. The 4x8GB kit is single ranked, whereas the 2x16GB kit is dual ranked. Both kits therefore use 4-way interleaving, so the performance is identical in the end from a practical point of view.


Test systems
Update (04/01/2021): There were errors in the table. The R7 1700 and R9 3950X were also tested together with the RTX 3090 and liquid cooling was used.
Methodology
The applied methodology includes several aspects, which should also be presented as compactly as possible. CapFrameX version v1.6.0 was used, which provides Rocket Lake support regarding telemetry data. These features were used for the review.
Configuration of CapFrameX.
Overlay refresh rate 1000ms
Auto-disable OSD active
Run History and Aggregation active
Outlier tolerance 3%
3 valid runs with a duration of 20 seconds = 1 valid session
Sensor logging active with a refresh rate of 500ms
Default configuration of sensor logging for standard benchmarks
Game settings
720p resolution
Reduction of render scaling if required
Reduce AA/AF/AO to a minimum
Disable Post Processing
Maximize all other settings to maximize the amount of draw calls
Ratraycing set to medium, if available, to increase the amount of draw calls in the non-visible area and put additional load on the CPU through BVH management.
Overall, demanding custom scenes were used to maximize stress on CPUs and memory. Only Counter Strike Global Offensiv was tested by using an automatic benchmark.
Metrics
Average FPS
1% percentile, which is insensitive to reproducible and especially random outliers.
All CPUs were run according to the manufacturer's specification. Intel CPUs were run with the special ASUS option "Enforce all limits", which ensures a correct PL1 and PL2. An exception to this are the runs with ABT enabled.
Adaptive Boost Technology
Intel's new Adaptive Boost Technology has the job to get more performance out of the CPUs and is initially only available for the i9 SKUs. With ABT enabled, the i9-11900K boosts up to 5.1GHz in games. There is a catch: the energy consumption increases considerably. With correctly set limits for PL1 and PL2, the boost is virtually ineffective in many titles because the strict power corset is simply not enough. For this reason, we decided to remove the limits to better show the impact of ABT on performance.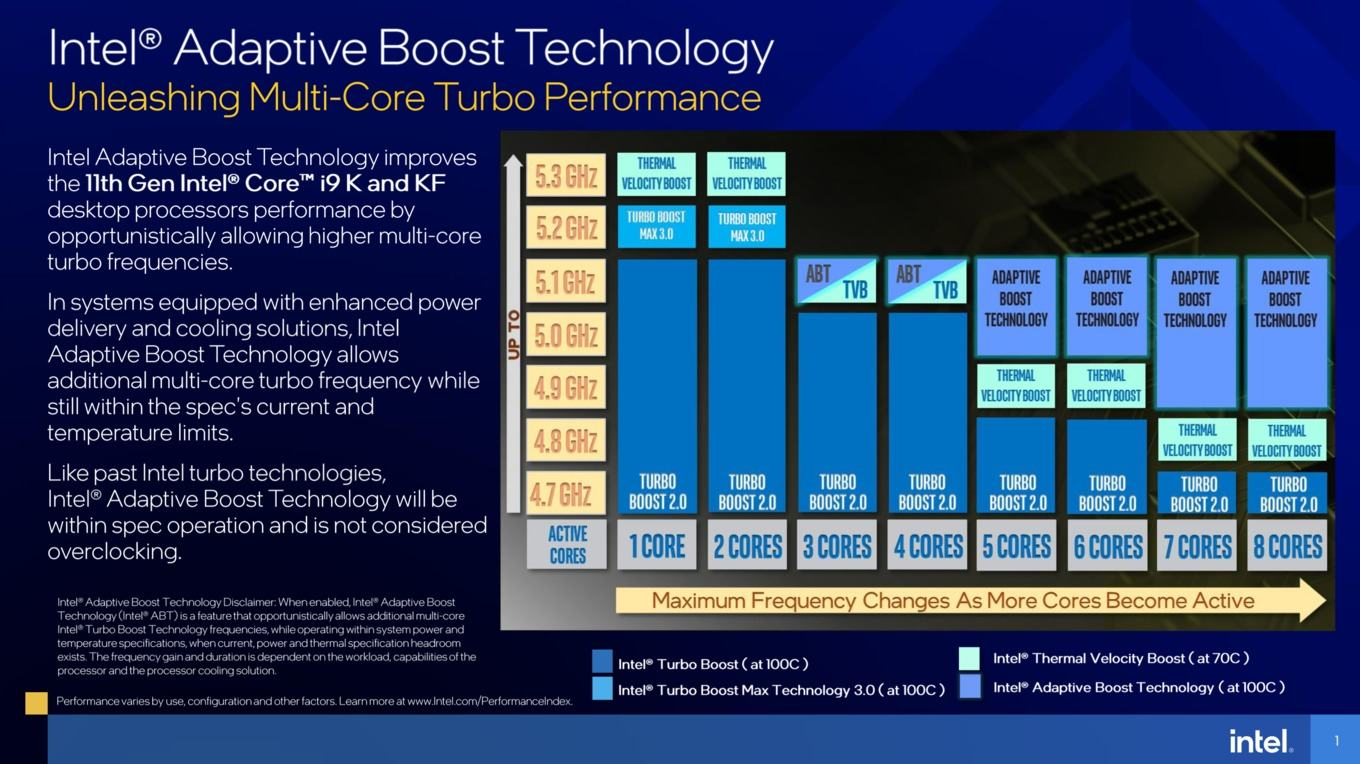 Source: Intel
Based on Shadow of the Tomb Raider, you can clearly see the impact of the power limits. The sensor statistics of CapFrameX shows Min, Avg and Max of the clock rates across all 8 cores as well as the package power. With PL1 = 125W, which is according to specifications, the clock rates even drop to 4.6GHz. In the end, the performance is very similar to ABT disabled. The i9-11900K boosts up to 4.8GHz in games without ABT, provided nothing else is limiting.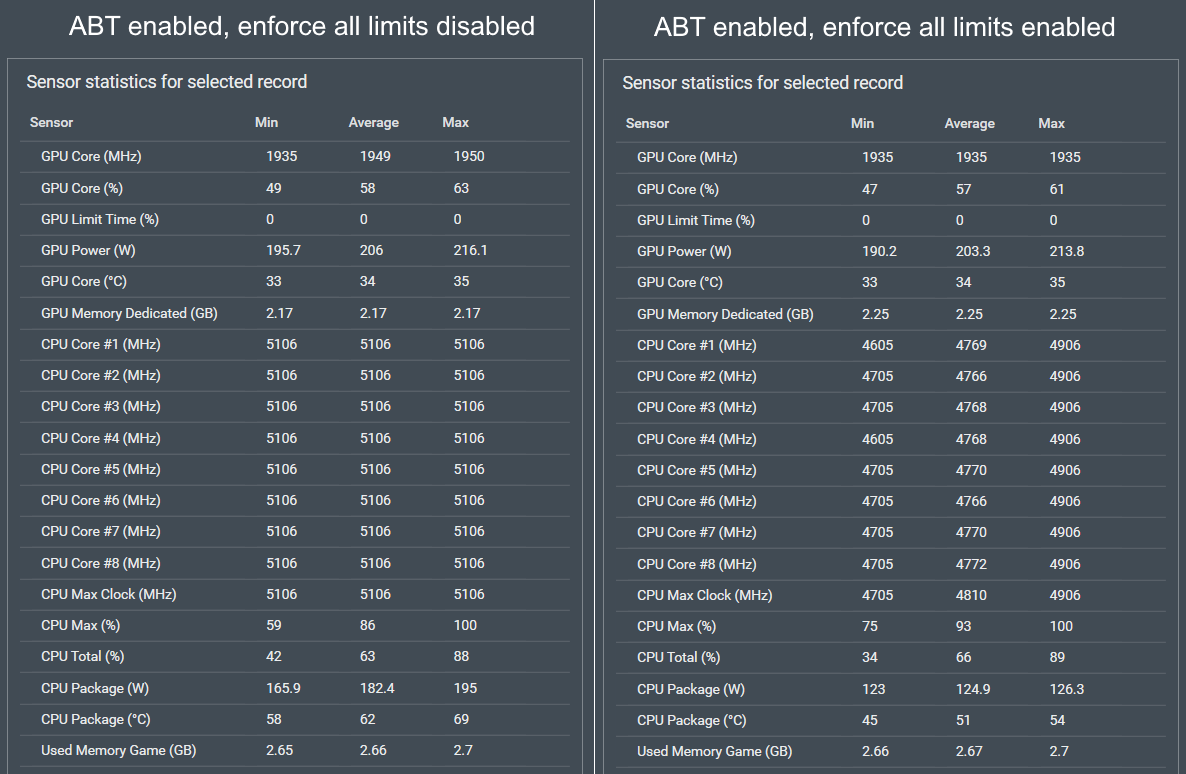 i9-11900K ABT with and without limits
New IMC
Rocket Lake has a new memory controller. The improvement is significant in terms of bandwidth (copy) and latency. However, the new controller has a serious disadvantage, which might be a stab straight in heart of some enthusiasts. Even with the latest BIOS version 0703, it was not possible to clock the memory beyond DDR-3733 together with the Gear 1 mode. Only switching to Gear 2 mode allowed overclocking the memory to 4400MT/s, which is actually the board's limit. Due to the fact that the memory controller runs in a ratio of 1:2 to the memory clock, higher latencies can't be avoided. Thus, it was not possible to push the latency below 50ns. Since Rocket Lake does not have such large L3 caches like Zen 3 the memory latency is enormously important for gaming performance. Initial tests have shown that due to this limitation an overclocked i9-11900K just can keep up with a well-tuned i9-10900K. Hopefully further BIOS updates will improve this situation.
The following chart compares an i9-10900K (left) and an i9-11900K (right) with identical memory settings (DDR-3200 CL16-16-36 2T).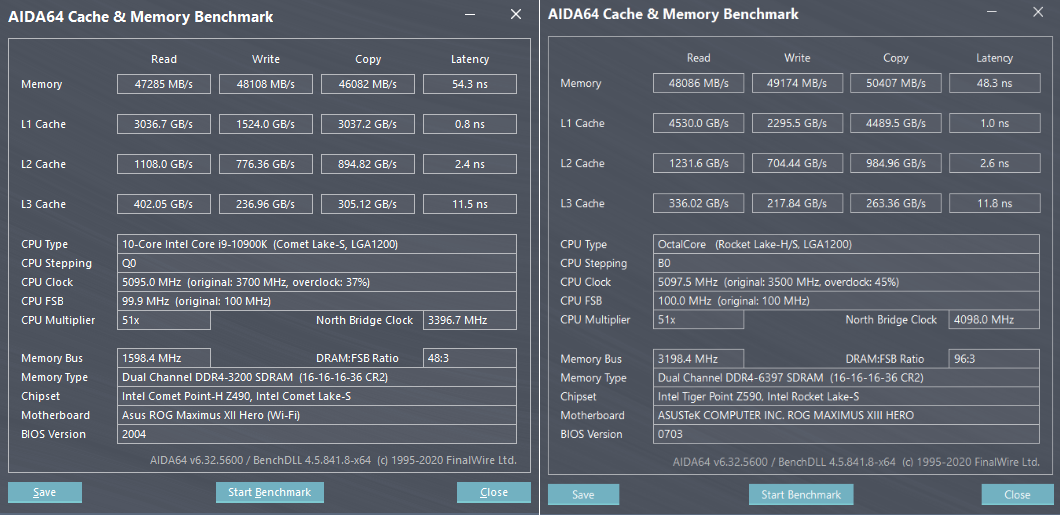 Memory bandwidth and latency comparison
Benchmarks
The benchmark suite originally consisted of 15 games, but Epic Games' update process forced us to adjust. Fortnite is a title with highly dynamic testing conditions. Unfortunately, that ended up being too dymanic, as Season 6 Chapter 2 made the replay file finally invalid. The game selection has the function of reflecting the distribution of modern engines as good as possible on the market. For each title the scene and settings are transparently communicated and linked as a Youtube video.
Results 720p
Anno 1800
API: DirectX 12
Engine: Inhouse-Engine
Scene and settings: video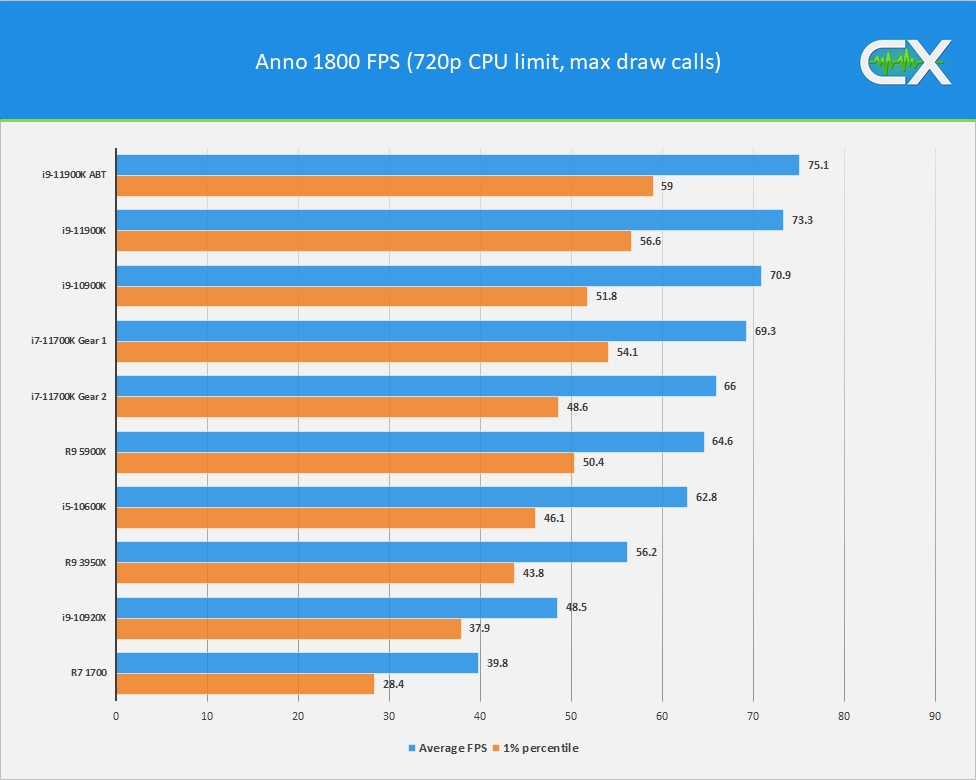 Borderlands 3
API: DirectX 12
Engine: Unreal Engine 4
Scene and settings: video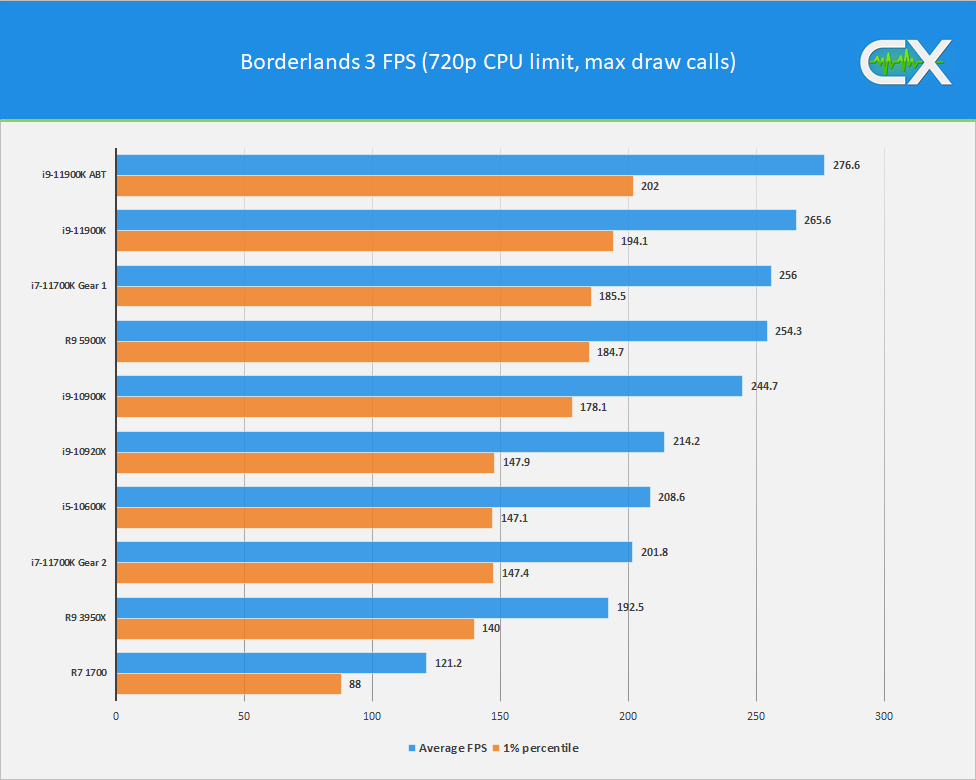 Call of Duty: Black Ops Cold War
API: DirectX 12
Engine: IW Engine 5
Scene and settings: video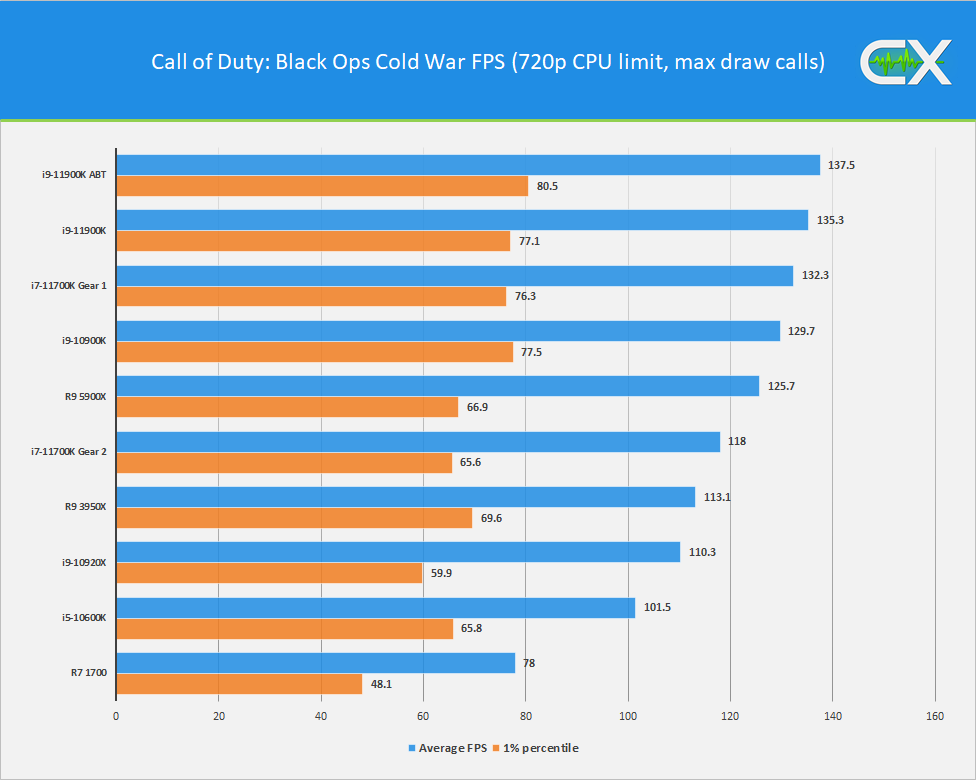 Counter Strike: Global Offensive
API: DirectX 9
Engine: Source Engine
Scene and Settings: video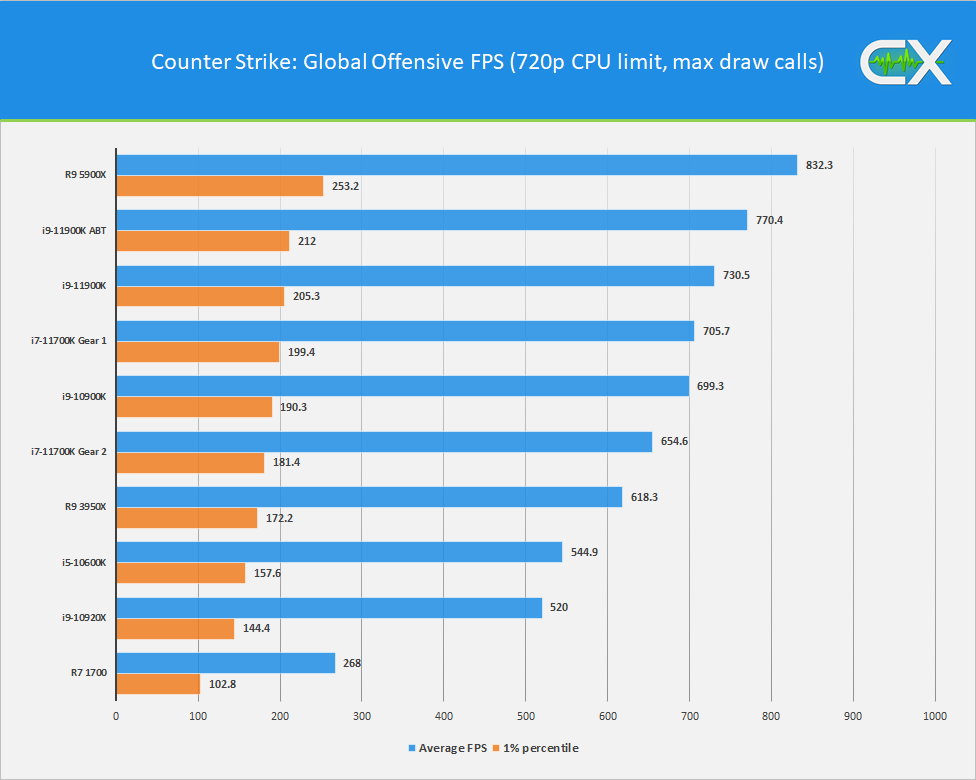 Crysis Remastered
API: DirectX 11
Engine: Cryengine 5.6
Scene and settings: video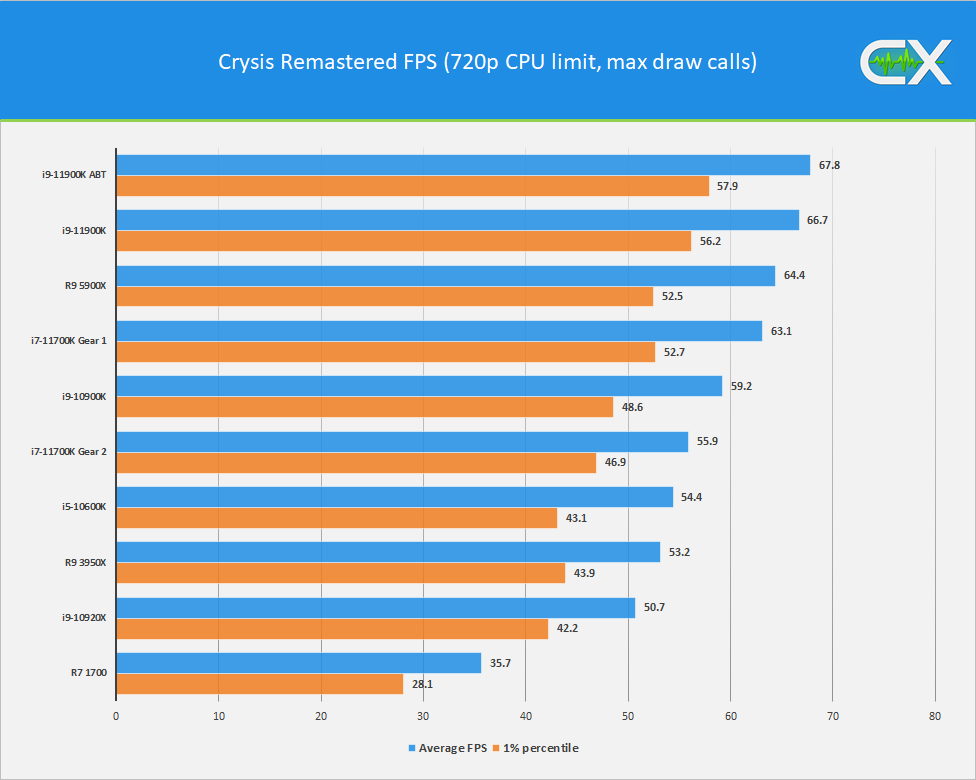 Cyberpunk 2077
API: DirectX 12
Engine: RED Engine 4
Scene and settings: video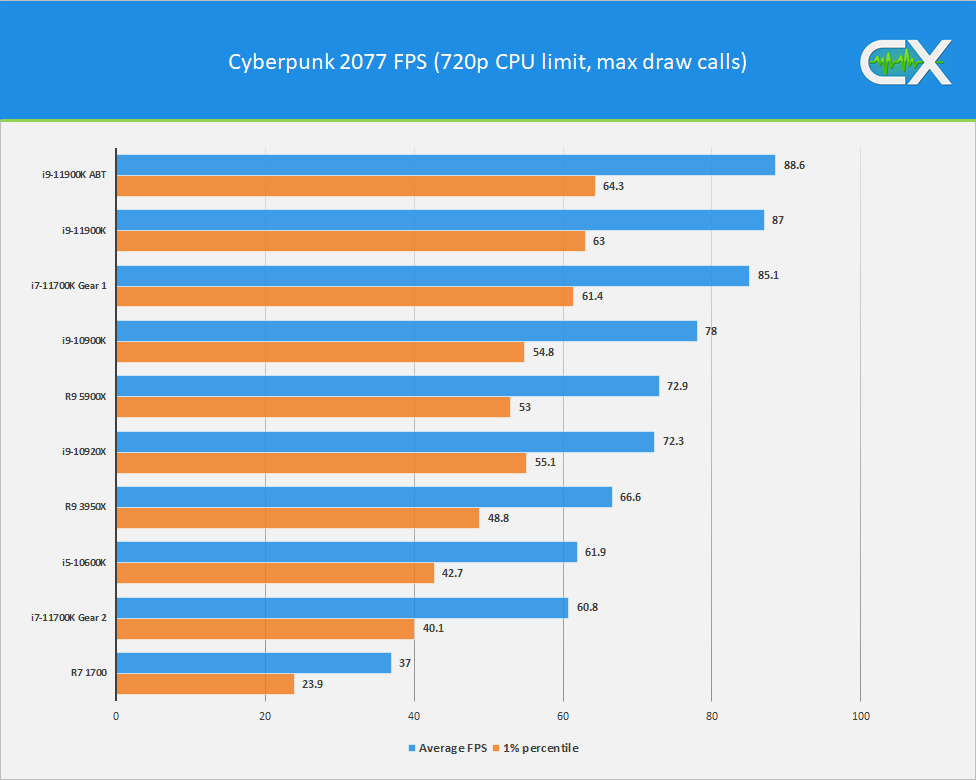 Death Stranding
API: DirectX 12
Engine: Decima Engine
Scene and settings: video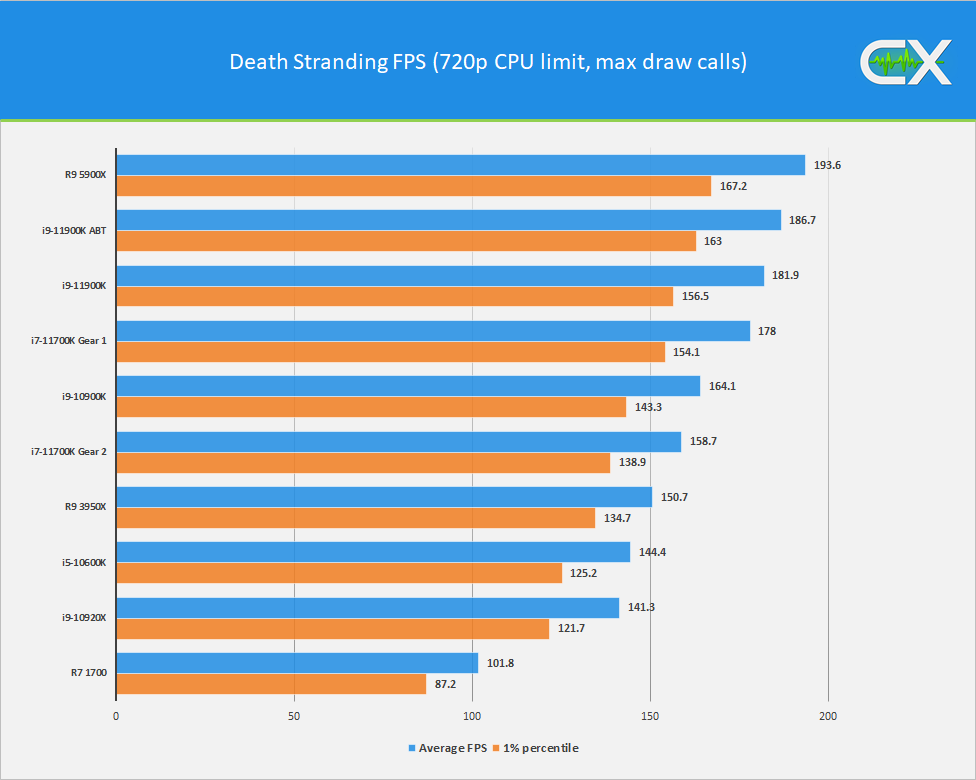 F1 2020
API: DirectX 12
Engine: EGO Engine
Scene and settings: video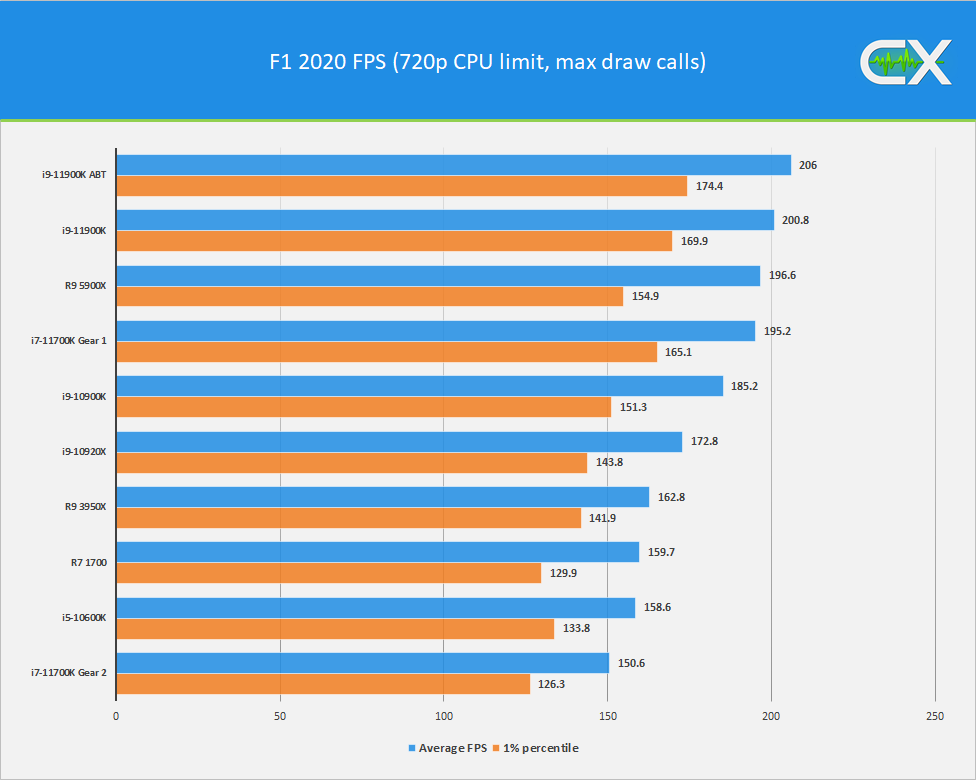 Ghost Recon Breakpoint
API: Vulkan
Engine: AnvilNext 2.0
Scene and settings: video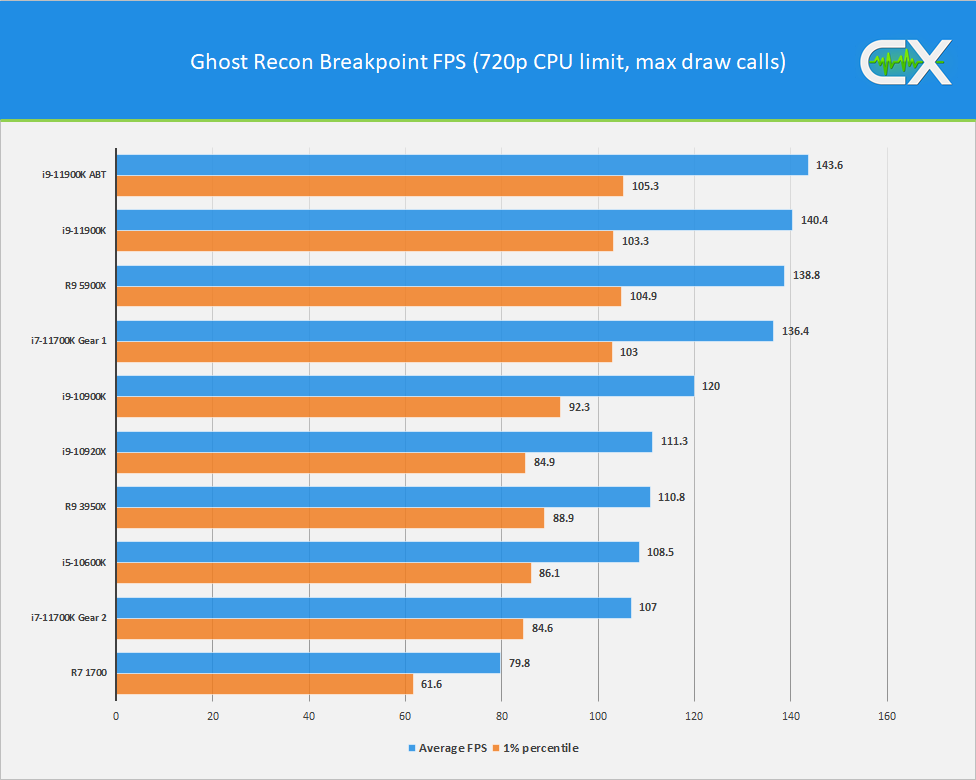 Hitman 3
API: DirectX 12
Engine: Glacier Engine
Scene and settings: video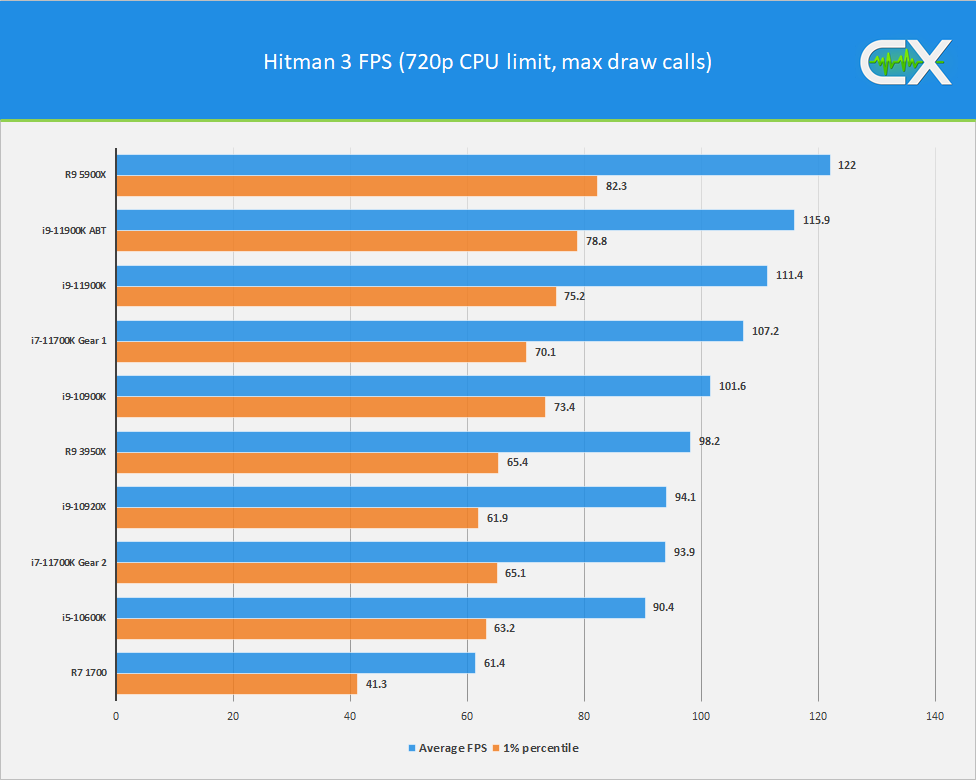 Horizon Zero Dawn
API: DirectX 12
Engine: Decima Engine
Scene and settings: video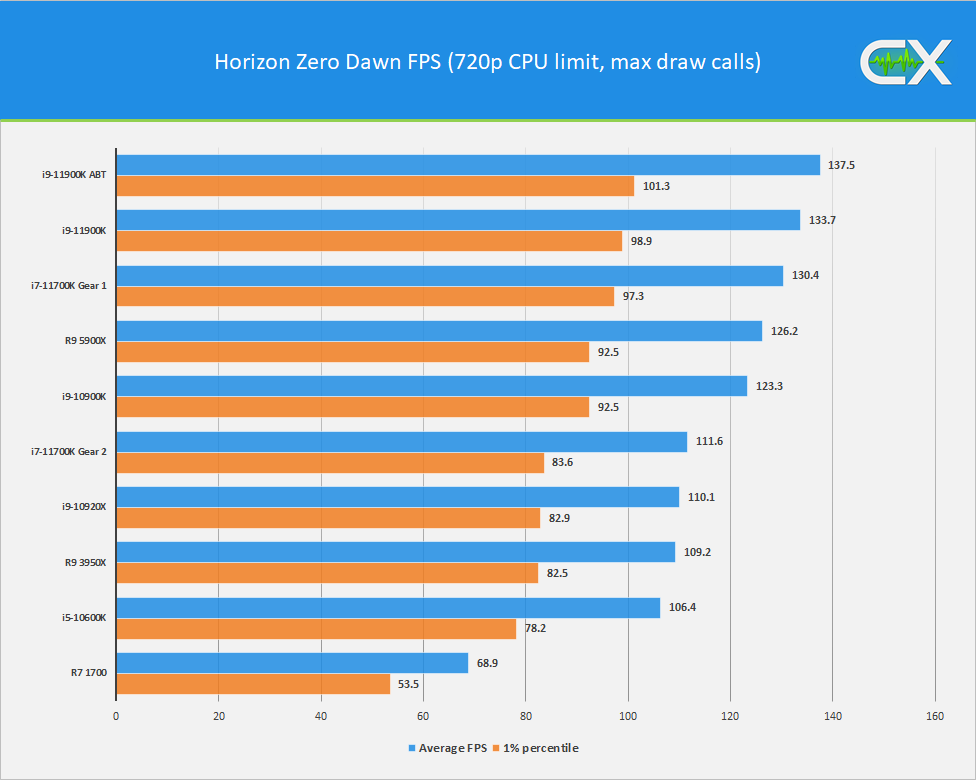 Shadow of the Tomb Raider
API: DirectX 12
Engine: Foundation Engine
Scene and settings: video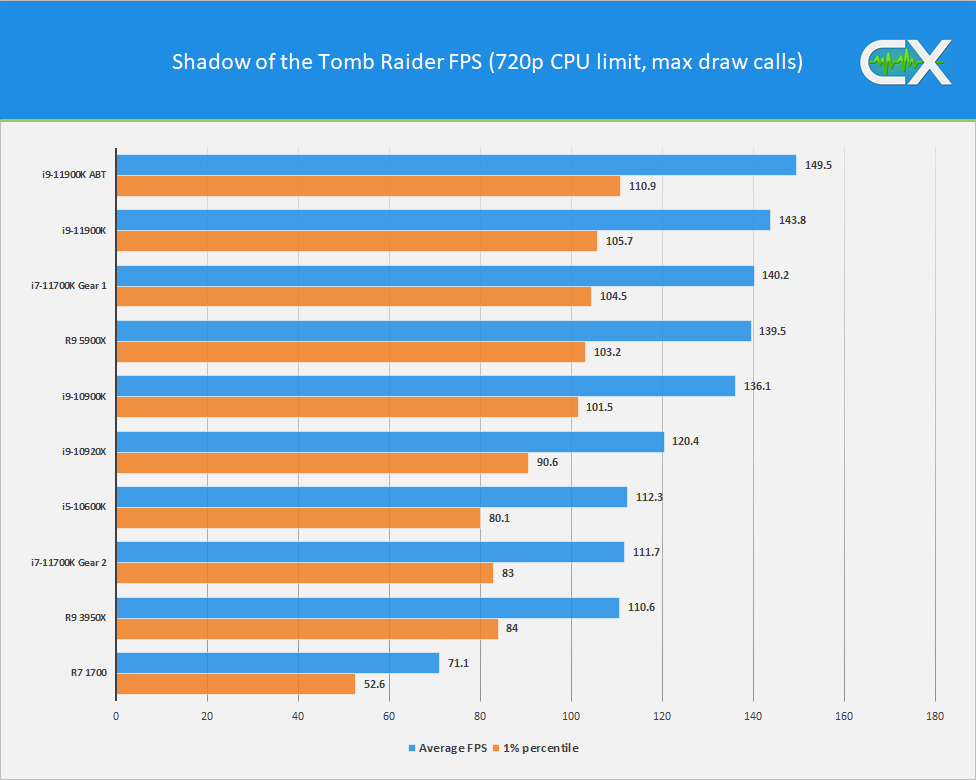 Star Wars: Jedi Fallen Order
API: DirectX 11
Engine: Unreal Engine 4
Scene and settings: video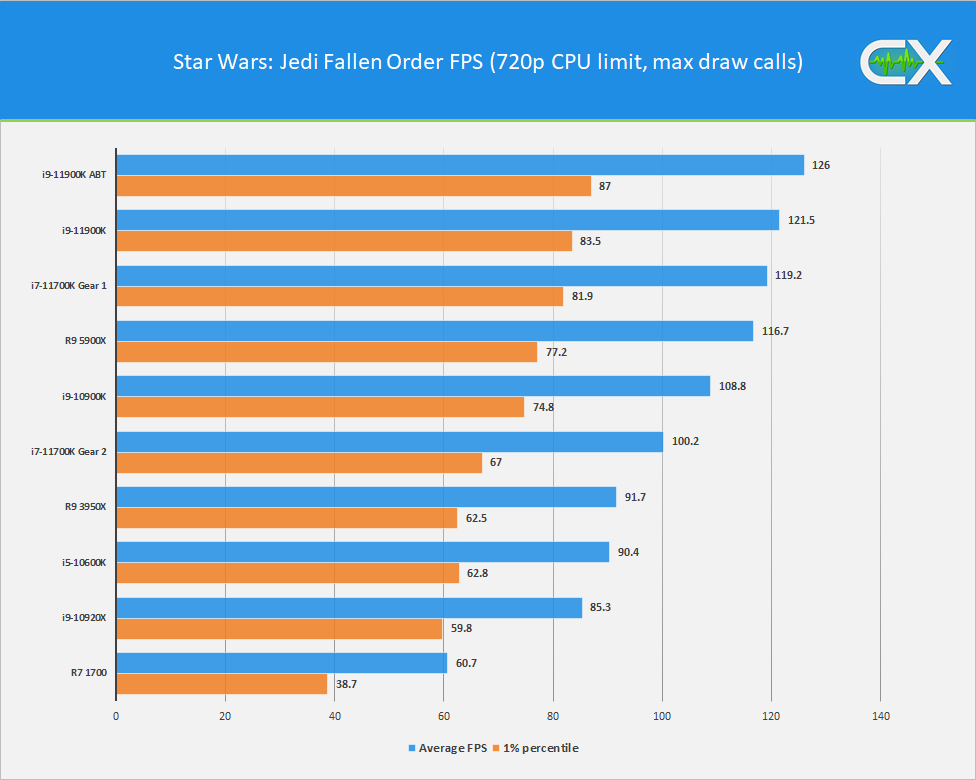 Ultimate Epic Battle Simulator
API: DirectX 11
Engine: Unity Engine
Scene and settings: video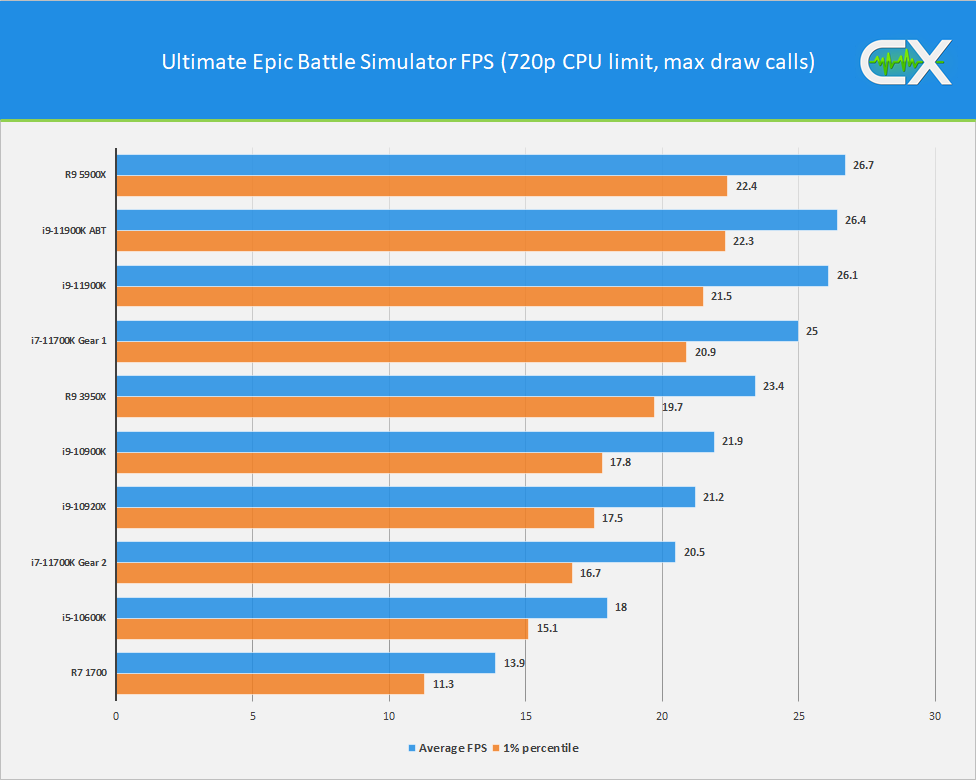 Overall ranking 720p
The overall ranking is calculated based on the average FPS. The single results are normalized over the maximum and then the average of the normalized values is normalized to 100%.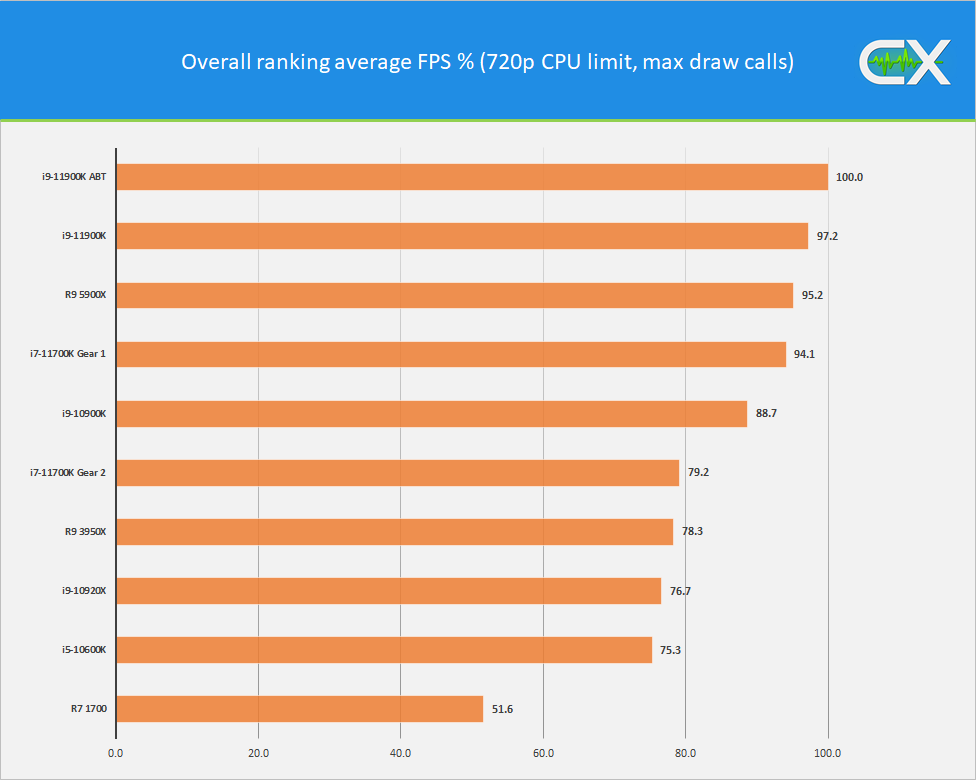 Gaming "IPC"
An interesting point is without a doubt the per clock performance of the new generation compared to other architectures. To be able to measure this all CPUs were configured in the BIOS as below:
4GHz fixed clock
6 active cores (Ryzen Game Mode/ single CCD)
SMT/HT off
DDR-3200 CL16-16-36 2T
SMT/HT was switched off because it can have a negative impact on the performance of AMD CPUs. Comet Lake is represented twice with the i9 and the i5. We were simply interested in how the larger cache (12MB vs. 20MB) affects the performance. It is an additional test in the test, so to speak.
Cyberpunk 2077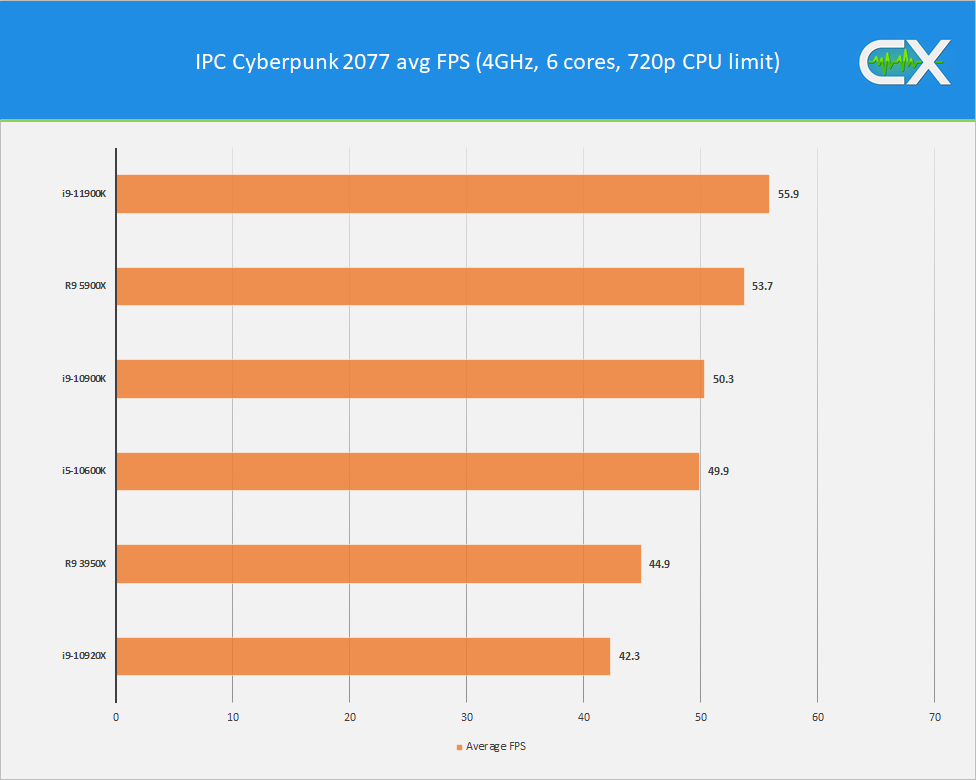 Hitman 3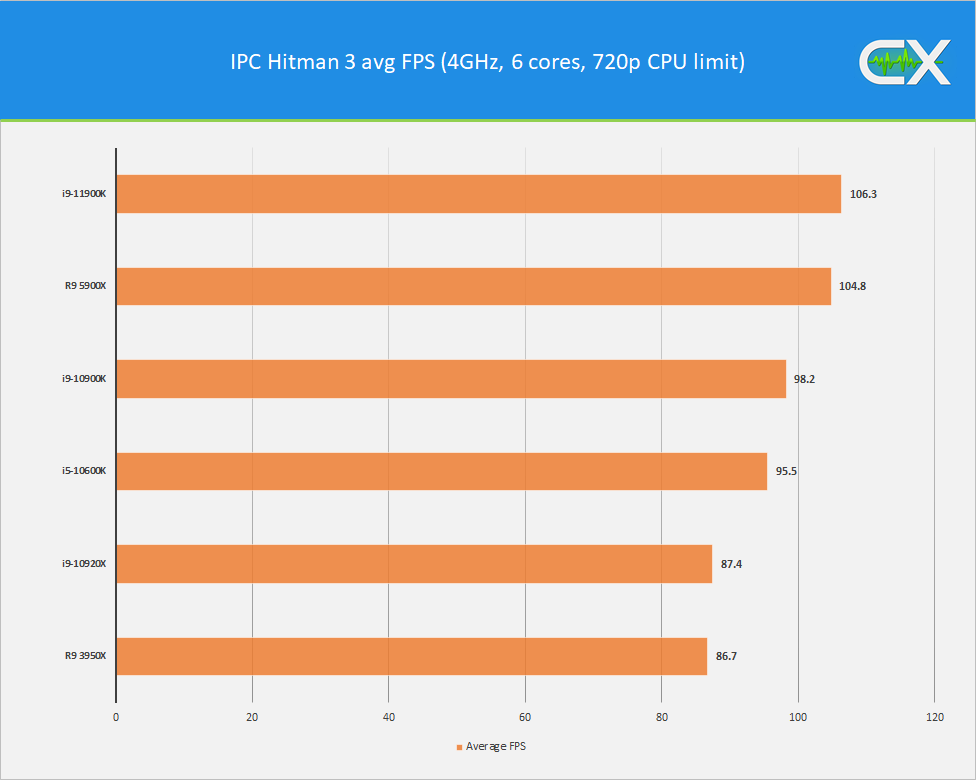 Shadow of the Tomb Raider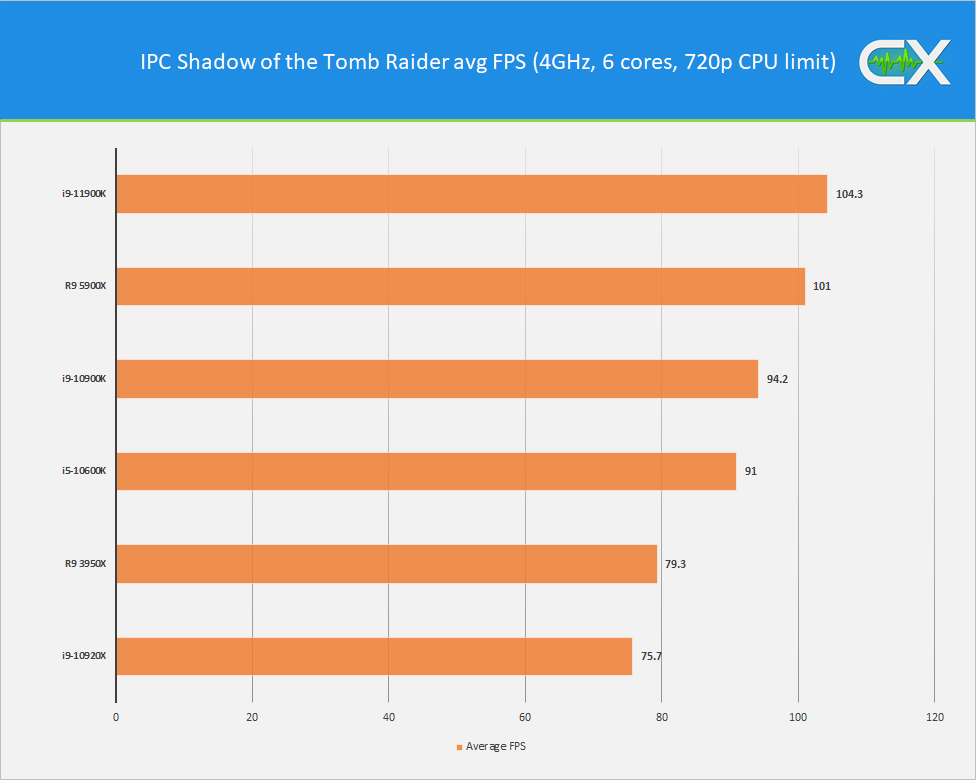 Overall Ranking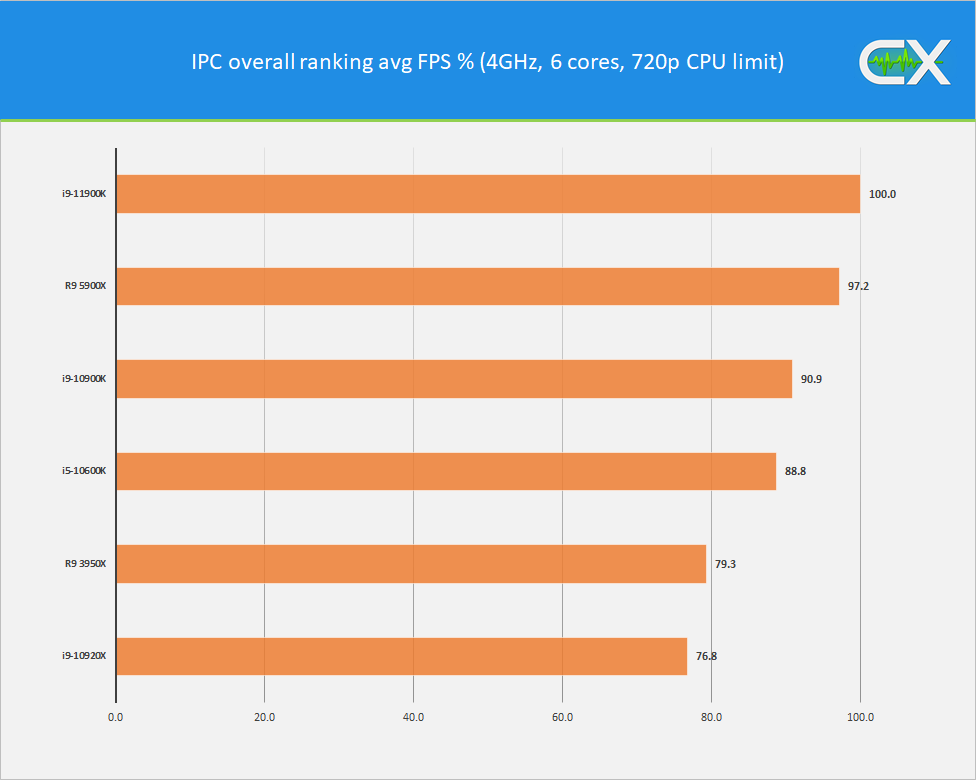 Efficiency
CapFrameX can capture different telemetry data during a recording. This includes, among other things, the package power of all common CPUs.

Together with the average FPS an efficiency ranking can be created. Unsurprisingly, the smaller Comet Lake with 6 cores takes the lead based on the data. ABT has a considerably negative impact on the efficiency. The i9-11900K falls to the end of the table when the last few percent of performance are forced using higher clock speeds and a disproportionately high power consumption.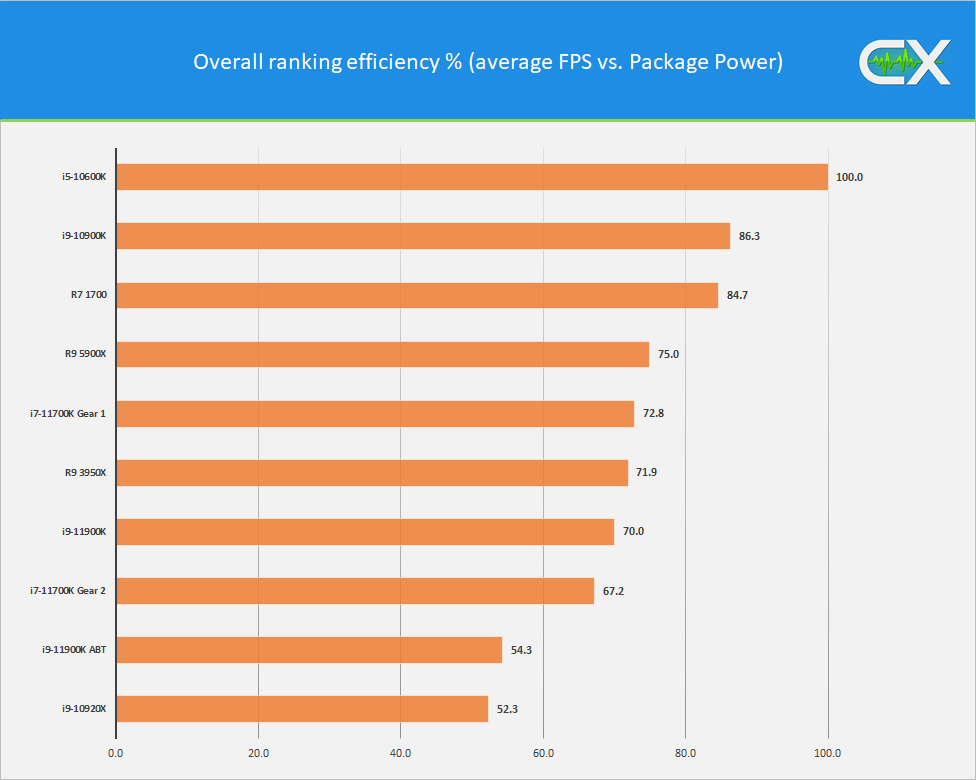 How good is Rocket Lake?
Rocket Lake eliminates some weaknesses of the platform with PCIe Gen 4 for example. The gaming performance is convincing, in the end it is even close enough for the gaming crown. Zen 3 is a strong gaming architecture so it is no great surprise that Rocket Lake is only slightly ahead. We did not test the iGPU ourselves due to time constraints but other reviewers actually confirmed a good performance. The iGPU can definitely be seen as a plus just because it exists in contrast to AMD's Ryzen 5000 CPUs. Cezanne is not yet available.
The IMC has been reworked and offers significantly more bandwidth (copy) and less memory latency at the same memory clock. This and other improvements result in about 9% more gaming "IPC" relative to our benchmarks. IPC is an application-dependent factor. Considering the years of stagnation this is an important step forward, but it turns out to be anything but spectacular.
The high end chip, the i9-11900K, looks lost somehow and cannot really set itself apart from the i7. ABT hardly shows any effect with strict limits. Without limits, on the other hand, efficiency is sacrificed. The disadvantage of the outdated 14nm process clearly shows up here. The hard limit of DDR-3733 together with Gear 1 mode will disappoint many fans of RAM tuning.
If the smaller Comet Lake SKUs in particular can also be tuned on B-boards via RAM OC then the biggest competition will come from within the company because Ryzen 5000 is too expensive at the moment. The success of Rocket Lake will be decided by price and availability, because from a gamer's point of view, there are no notable differences between Rocket Lake and Zen 3 in terms of performance and features. Those who can do without PCIe Gen 4 can also go for Comet Lake.
In the end, the small i5-11400F will probably be the true star of the 11th generation. The i5 which is available for about 165 Euros, is already on its way to us. We will soon make a review of the i5 including a tuning guide.
A personal comment
This is the first time that we have received a review sample from a well-known manufacturer to be able to do a launch review. Many thanks to Intel at this point. The launch was quite turbulent in the run-up. We made the promise to show the real gaming performance of the 11th generation right from the start. We put a lot of effort into making it happen as best we could. Problems with the platform had to be solved and we avoided publishing invalid results ahead of time. This way we would like to practice a testing philosophy that assumes manufacturer-independent fairness and builds trust with the readers, the community and ultimately the companies as well.
Your CX Team