Authors: devtechprofile and user "blautemple" from PCGHX Forum
In the last few years, Nvidia was practically without exception at the top of the benchmark lists. With Big Navi AMD has successfully fought its way back in the upper echelons of GPU charts and offers a worthy opponent for the Ampere lineup with its portfolio around the RX 6900 XT. However, a completely new situation arises with this comeback. Which graphics card should be used to do CPU tests? The answer seems to be obvious, of course with the strongest one, currently the 3090. But is the situation really that simple or does the usual order perhaps change in CPU limited scenarios? In the following article, we will try to take a closer look at the impact of the driver overhead on CPU limited scenarios.
Test system
In this test, a Sapphire Nitro+ Radeon RX 6900 XT competes for AMD and an ASUS ROG Strix GeForce RTX 3090 OC for Nvidia. Both graphics cards run with stock settings, whereby the clock rates do not have any impact on the results since the test systems are fully CPU bound. However, it is to be noted that the RTX 3090 is water-cooled.
The rest of the test system's specifications are as follows.
CPU: Intel Core i9-10900K, 5GHz core clock, 4.7GHz cache clock
Board: Asus ROG Maximus XII Hero
RAM: 32GB DDR4 4266MHz CL17-18-38-340-2T

Test scenarios
AMD
720p - SAM/ResBar Off
Nvidia
720p - SAM/ResBar Off
Games
Battlefield V
Borderlands 3
Cyberpunk 2077
Death Stranding
F1 2020
Ghost Recon: Breakpoint
Shadow of the Tomb Raider
Star Wars Jedi: Fallen Order
With the selected games we tried to represent the cross-section of the current world of games. That means many DX12 and few DX 11 or Vulkan titles. In addition, as many different genres as possible should be covered. As for the settings and scenes, we again used PCGH (Benchmark-FAQ 2020/2021 (processors): 16 games and 4 applications including manual and savegames.
Results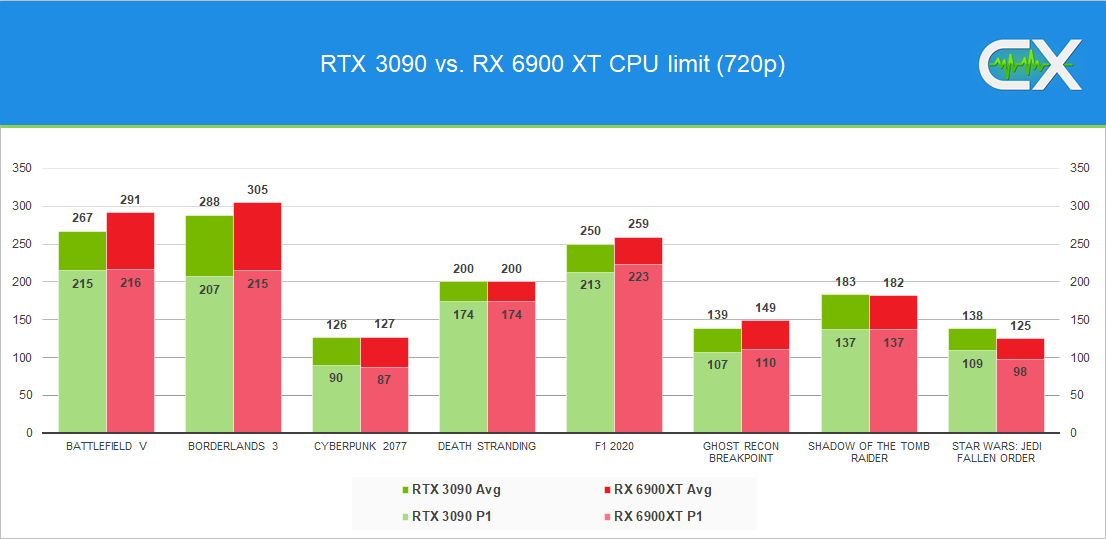 At first glance, the results are unspectacular, there are no big differences. Under DX12, Battlefield V and Borderlands 3 stand out positively for AMD, additionally AMD is better at Vulkan, since AMD can clearly leave Nvidia behind in Ghost Recon: Breakpoint. Under DX11, however, the situation reverses as can be seen in Star Wars Jedi: Fallen Order, where Nvidia can beat AMD.
Conclusion
On average, the differences are about 3% in favor of the 6900XT. More interesting is how the differences turn out in more detail. For example, you can see in Star Wars Jedi: Fallen Order that Nvidia is stronger at DX11, while AMD tends to be stronger at low level APIs, since there is no title under DX12 or Vulkan where the 6900XT is inferior to the 3090 and in 4 of the 7 DX12 and Vulkan titles the 6900XT comes out at the top of the pile.
In the end, there is as usual no clear winner, but it strongly dependents on the used API. Due to AMD's slight lead in DX12 and Vulkan AMD has a slight advantage, since DX11 will or should play an increasingly smaller role in the future.
If at all possible CPU comparisons should ideally be carried out for both vendors in order to present a picture that is as unbiased as possible for everyone.